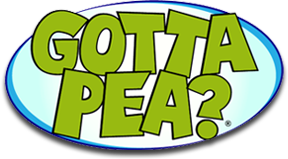 Gotta Pea makes pea-culiar entertainment products for the whole family.
The company's first iOS game launched in April 2012.
Official Website | @GottaPea | Facebook
Assets:
In the News:
Interact:
About Gotta Pea®
Founded in 2008, Gotta Pea® is a quirky company out to save the world. With their eye on the environment, a pea-riffic line of mobile and social online games, and Peatown at the center of their universe, Gotta Pea® creates fun products for the whole family. Gotta Pea® games are addictively entertaining and Gotta Pea® characters are a pod-full of personality, building buzz for environmental issues across interactive digital divides.  Meet them all in 2012 at http://www.gottapea.com and help spread "Peas on Earth".
Gotta Pea® is a registered trademark. ©2011 Gotta Pea, LLC
Media contact:
Ashley Yang, TriplePoint
ayang@triplepointpr.com
(415) 955-8500
Official Press Releases: