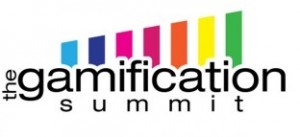 Chamillionaire, Fortune 500 Speakers Added to Roster; Workshops Full
NEW YORK CITY – May 10, 2012 – The Gamification Summit (June 19-21 in San Francisco) has today announced the GAwards, the engagement industry's first and only awards program recognizing the finest achievements in Gamification over the last year. Nominations may be made by any member of the community, and voting will close on June 8.

To recognize your favorite gamified apps in a wide range of categories, visit http://www.gsummit.com/g-awards/. Winners will be announced at GSummit on June 20. New speakers, including Grammy® award winner Chamilionaire have also been added to agenda. Tickets and more information on GSummit can be found at http://gsummit.com.
"Gamification adoption has reached a tipping point, and we think it is high time that the very best this industry has to offer be recognized," said Gabe Zichermann, chair of The Gamification Summit. "With the GAwards, we are excited to recognize and honor the best achievements in Gamification in a number of different areas, from consumer facing to enterprise applications and even in terms of societal impact."
The inaugural GAwards will honor the best examples of gamification in the following categories:
Consumer Facing App/Site
Education
The Enterprise (HR/HCI)
Health & Wellness
Societal Good
Overall Greatest Impact
In each category, community nominations will determine the finalists that will then be voted on by a panel of industry experts. Top vote getters in the open round will also be eligible to win the people's choice award in each category. Complete rules and instructions are available at http://www.gsummit.com/g-awards/.
The Gamification Summit has also today announced a number of additions to the summit's already impressive lineup of speakers:
Chamillionaire – The Grammy® award winning artist will talk about the success of his Chamillionaire Rewards Program and share lessons other artists can learn about engaging their fans.
Tim Chang – Noted venture capitalist from Mayfield Fund and #54 on Forbes' Midas List of the top technology investors, Tim will share insights on the investment thesis for gamification and how game mechanics will affect crowdsourced investments after the JOBS act.
Brian Wong – Startup wunderkind and Kiip CEO, Brian will discuss gamification in the game space.
Plus a brand new health panel – Representatives from United Healthcare, Rock Health, Zamzee, and Cake Health will discuss gamification's effect on the health and wellness industry.
These speakers join a roster of gamification experts from across industries who will share best practices, lessons learned, data, and hands-on experience with GSummit attendees.  Nearly 50 speakers, from companies like SalesForce, United Airlines, OMGPop, Google, Cisco, NBC, Oracle, Microsoft, eBay, JD Power, Ogilvy, Mozilla and more, will take to the GSummit stage this June in San Francisco.  Additionally, the hands-on advanced Gamification workshop is now sold out, and new registrants may add themselves to the waitlist by purchasing a two-day pass with workshop waitlist. A limited number of spaces are still available for the Enterprise workshop on June 19.
The Gamification Summit will take place June 19-21 in San Francisco's Councourse Exhibition Center. To learn more and to register, please visit http://GSummit.com.
About Gamification Co
Gamification Co is the only transmedia company exclusively dedicated to Engagement Science and Gamification. The group publishes the Gamification Blog and related books, organizes The Gamification Summit & Workshops and provides consulting expertise to facilitate this burgeoning industry.
Gamification is the use of game thinking and game mechanics to solve problems and engage audiences, and its power is radically reshaping industries from marketing to HR, education to health care, improving lives, solving problems and generating unprecedented growth. Gartner Group forecasts that Gamification will be used by 70% of the Global 2000 by 2015, spending over $2Bn on related products, services and technologies according to M2 Research. For more information on Gamification Co and how to leverage the power of game mechanics, visit http://Gamification.Co.
Official website | Facebook | @gsummit2012