Net Games Laboratory's Online Space Shooter Now Planned for Open Beta Release Through Steam Early Access in Early 2014

HONG KONG – Nov. 6, 2013 – Net Games Laboratory, an independent development studio founded by veterans of some of Eastern Europe's most successful online gaming companies, today announced that Cannons Lasers Rockets, a team-based PvP arcade space shooter, has been Greenlit on Steam. The title is planned for an initial open beta release through Steam's Early Access program in early 2014. To learn more about Cannons Lasers Rockets, please visit http://clrgame.com/.
Cannons Lasers Rockets was created on the premise that flying a virtual spaceship doesn't need to be rocket science – the game was designed for intuitive, fast-paced spaceship dogfighting. Players can get directly into the action with minimum downtime or annoying delivery quests. The team, which includes former Nival and Wargaming developers, drew from MMOs and MOBAs alike to create a cohesive and streamlined battle experience, allowing players to choose from hundreds of spaceships to customize and team up to defeat other groups of players in epic zero-gravity battles.
Features include:

Furious team-based PvP gameplay, ranging from a handful of dogfighters up to 50 ships competing on a single map
Hundreds of creatively-imagined, customizable ships with a wide array of equipment to choose from for further personalization
Arcade-style space shooter action with easy-to-learn controls but strategic depth for experienced players
Multiple mission types that play out across dozens of maps which feature interactive environments that can provide tactical advantages
Emphasis on community and competitive gameplay, with tournaments, leaderboards, achievements, and special in-game challenges
Cross-platform multiplayer across PC, Mac and Linux, with iOS and Android versions to come at a later date
To learn more about Cannons Lasers Rockets, visit: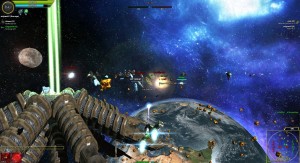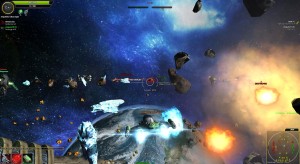 Assets
Download the press kit
About Net Games Laboratory
Net Games Laboratory was founded through a partnership between Nat Invest Group and a small team of veteran online game developers from leading Eastern European studios like Nival, GD-Team and Wargaming (World of Tanks). Incorporated in Hong Kong in 2010 as an independently owned and operated game development company, Net Games is dedicated to pushing the technological and creative limits in game design and developing interactive virtual worlds outside the typical fantasy genre. The studio's upcoming PvP arcade space shooter Cannons Lasers Rockets will launch for PC, Mac and Linux in 2014.
To learn more about Net Games Laboratory, please visit: http://netgameslab.com/.
---
Media Contact
Stephanie Palermo, TriplePoint for Net Games Laboratory
spalermo@triplepointpr.com
(415) 955-8500