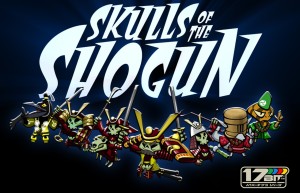 Command an Army of Skeletal Soldiers and Reclaim Your Honor through Bone-Chilling Turn-Based Combat
SANTA MONICA, Calif. – Oct. 28, 2014 – OUYA and 17-BIT today announced that the highly-acclaimed turn-based strategy game Skulls of the Shogun is available now on the OUYA storefront for $9.99 – and for launch week only, aspiring tacticians can leap into the fray for the discounted price of $7.99. Players will take on the role of General Akamoto, a brilliant strategist who never lost a battle until his tragic and untimely demise. Not one to let death get in the way of the line of duty, Akamoto carries on the fight as a stone-faced skeleton with a chip on his shoulder and a bone to pick with the scoundrels who took his life.
The game's combat system is fluid and fast-paced, combining arcade-style rapid-play with strategic tactical planning. To claim the illustrious title of Shogun of the Afterlife, players must progress through four different seasons of the samurai afterlife, risking (after)life and limb at the bony hands of a sea of savage specters. If they hope to make it out alive, they must bolster their army by any means necessary – by powering up their sinister troops, striking deals with mischievous animal spirit-monks, and even devouring the skulls of their fallen enemies.
In addition to its extensive 10-15 hour single-player campaign, Skulls of the Shogun can accommodate two, three, or four players simultaneously in local or online deathmatch-style skirmishes. With thirty different multiplayer maps and wildly variable battle outcomes, Skulls is infinitely replayable – and what better way to settle a blood-feud than through bloodless, bone-shattering grudge matches?
Skulls of the Shogun was inspired by classic 1960's anime and old samurai films, and these influences come together to form the game's vivid, atmospheric, comical and colorful environment.
Check out the undead combat in the game trailer: http://youtu.be/K3-7ElfToLM.
Or download screenshots here: http://skullsoftheshogun.com/downloads/.
Grab the game on OUYA here: https://www.ouya.tv/game/Skulls-of-the-Shogun/.
About OUYA
OUYA is a new kind of game platform that enables any creator to publish a game for the TV. Launched with the OUYA game console in 2013, OUYA has hundreds of games from established AAA developers to emerging game artists. The OUYA also has plenty of entertainment content in 1080p HD quality. OUYA, built on an accessible and open platform, was envisioned by founder and CEO Julie Uhrman. The OUYA console was beautifully designed by award-winning designer Yves Behar.
Website | Facebook | @playOUYA
About 17-BIT
17-BIT is a boutique independent video game developer specializing in revitalizing classic genres with cutting-edge gaming experiences. Founded in 2009 by game industry veteran Jake Kazdal, 17-BIT aims to deliver iconoclastic games that challenge the expectations of 2D gaming. With bold, eye-catching art and broad audience appeal, 17-BIT creates fresh game experiences that hearken back to the 16-bit era of consoles, but with the power and high definition of modern hardware.