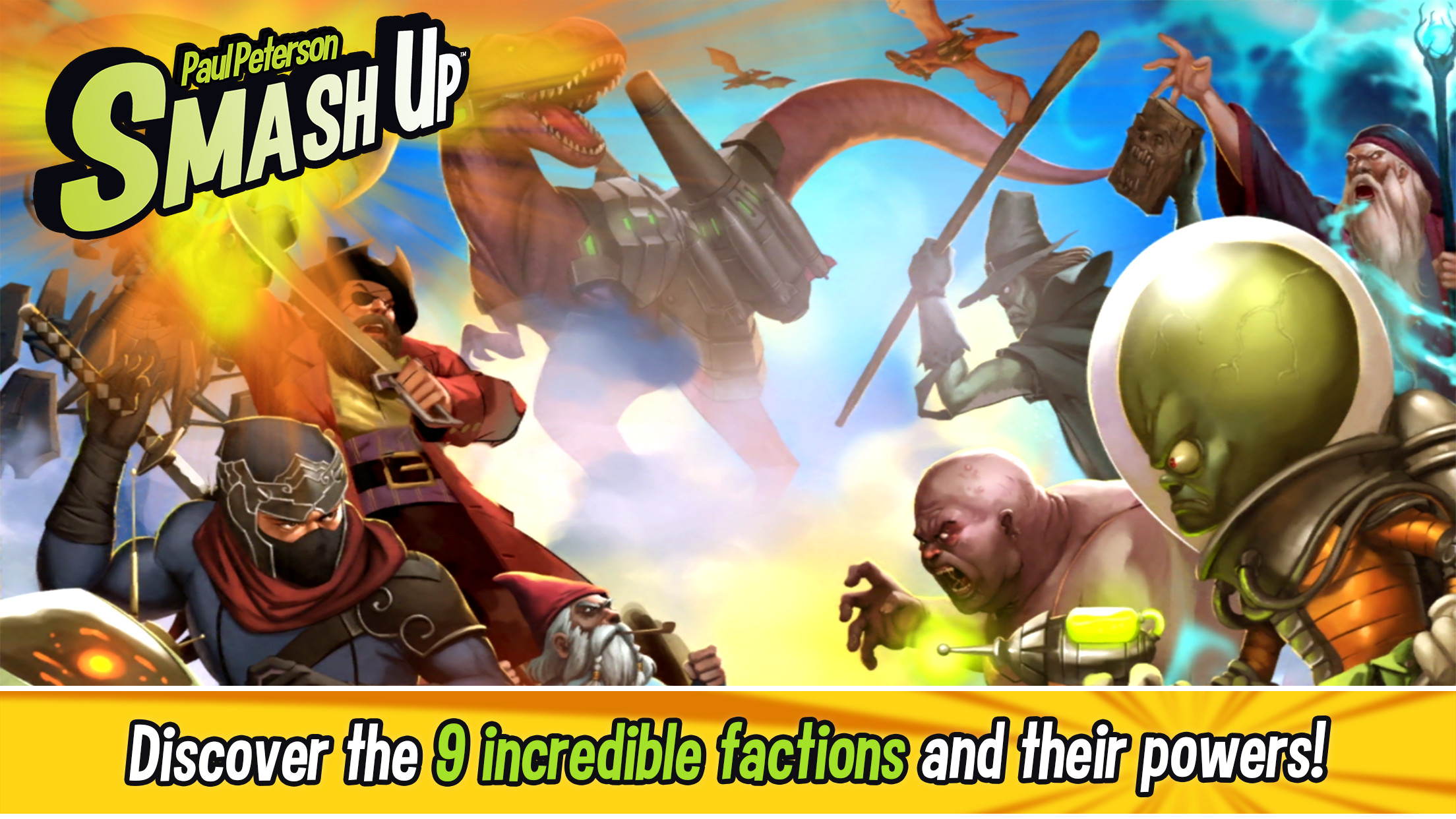 Award-Winning Pop Culture Mashup Makes Its Digital Shuffle-building Debut
PARIS – Oct. 12, 2017 – Asmodee Digital, a leader in digital board game entertainment, Alderac Entertainment Group and Nomad Games today released Smash Up on Steam, Android and iOS devices. This beautiful digital adaptation of Paul Peterson's award-winning card game challenges players to draft a hybrid team of misfits and take on other players or the game AI.
Steam: http://store.steampowered.com/app/446540/Smash_Up/
iOS: https://itunes.apple.com/us/app/smash-up-conquer-the-bases-with-your-factions/id1195821282?l=fr&ls=1&mt=8
Android: https://play.google.com/store/apps/details?id=com.asmodeedigital.smashup
From pirates and ninjas to robots, zombies and beyond, Smash Up is a shuffle-building game where players pick two factions and shuffle them to build a deck. The goal is simple: capture the bases on the board to earn points, and the first player to 15 points claims victory! With up to four-player multiplayer and solo gameplay options (against the AI), Smash Up is perfect for parties of any size – across the world or across the living room.
"Collaborating with Nomad games on this digital adaptation of one of the most acclaimed card games has been a great experience. We believe Smash Up's digital adaptation will not only please fans, but also encourage new players to join the Smash up community," said Philippe Dao, Chief Marketing Officer at Asmodee Digital.
Launch Trailer: https://youtu.be/W2gnef0LtBE
For more information, check out the website and follow Asmodee Digital on social media.
Website: http://www.asmodee-digital.com/en/smashup/
Facebook: https://www.facebook.com/asmodeedigital/
Twitter: https://twitter.com/asmodeedigital
Instagram: https://www.instagram.com/asmodeedigital/
You Tube: https://www.youtube.com/asmodeedigital
Smash Up press kit: https://drive.google.com/open?id=0B5kadNdeNhycR0p2bTB6VnNPNkU
About Asmodee Digital
Asmodee Digital, a fully owned subsidiary of the Asmodee Group, is an international publisher and distributor of digital board games with operations located in Europe, North America, and China. Asmodee Digital manages the creation, design, development, publishing, and marketing of board and card games on leading digital platforms for Asmodee studios as well as for third-party publishers. The current Asmodee Digital catalog includes best-selling digital games such as Ticket to Ride, Splendor, Pandemic, Small World 2, Mr. Jack London, Lexigo Rush, Story Cubes, Colt Express, Mysterium, Potion Explosion, Onirim, Jaipur, Spot It! Duel, Ticket to Ride: First Journey, Harald and digital versions of many other well-known board games.
About Nomad Games
Nomad Games was formed in 2011 by a small team of veteran digital developers with the aim of bringing exciting tabletop gaming experiences to the mobile audience. At the core of this mission is working with leading brands in the tabletop arena, including Games Workshop (Talisman and Warhammer 40K), Alderac Entertainment Group (Smash Up), Asmodee (one of the fastest growing board game companies in the world) and recently a game based on re-imagining the iconic Fighting Fantasy game books by godfathers of the British Games Industry, Ian Livingstone and Steve Jackson. With a growing audience of over half a million players worldwide, Nomad Games continues its mission of bringing the worlds of tabletop-gaming and video-gaming together.
About Alderac Entertainment Group
AEG, an international publisher of tabletop games, was formed over twenty years ago to publish Shadis magazine. In the mid-1990s AEG created the Legend of the Five Rings. Between 1995 and 2005 AEG created an amazing universe of worlds including 7th Sea, Warlord, and Spycraft. AEG has been transforming over the past several years to focus on board, card and dice games. AEG has created huge hits like Smash Up and Love Letter, and recent innovative games like Mystic Vale, Custom Heroes, Automobiles, Istanbul, Thunderstone Quest, and Cutthroat Kingdoms.
AEG is based in California and has a virtual workforce distributed all over the world. AEG staff work from France, Canada, and several US States.
# # #
Media Contact
TriplePoint for Asmodee Digital
asmodee@triplepointpr.com
415.955.8500