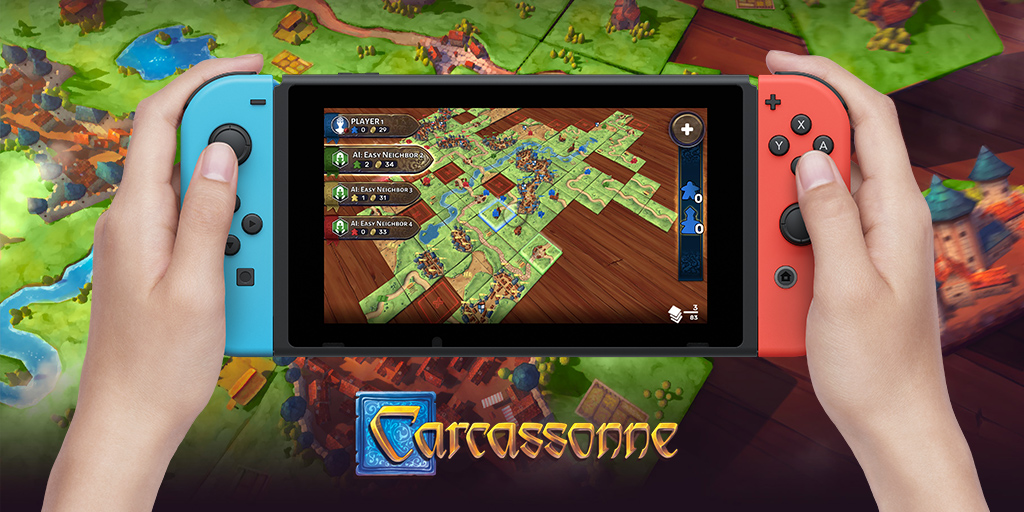 Carcassonne Coming First, Winter 2018
PARIS – June 6, 2018 – Asmodee Digital, the industry leader in digital board game entertainment, announced today it will soon begin publishing games on Nintendo Switch. The first release in Asmodee Digital's console development strategy will be Carcassonne, the digital version of the award-winning, tile-laying board game, already available for Android, PC and Mac via Steam. The Nintendo Switch™ adaptation will be available in Winter 2018.
"Carcassonne is the first Asmodee Digital title of many to follow on Nintendo's platforms," says Pierre Ortolan CEO of Asmodee Digital. "This partnership is based on Nintendo's need for new user experiences, and Asmodee Digital's continued goal of bringing great board game IPs to new platforms."
"Bringing Carcassonne to the Nintendo Switch platform is an opportunity to enlarge the success of this iconic game," said Moritz Brunnhofer, Managing Director, Hans im Glück.
Simple to pick up but challenging to master, Carcassonne presents players with endless opportunities for tactical play. Within minutes, players will find themselves in tough situations – determining where to put their last meeple, whether to use tiles to expand the city, or to hinder their opponent. Players place only one tile each round, and have the option to place one meeple on it. Each game develops differently, full of boundless possibilities, and the quick-fire nature of the game ensures that Carcassonne always runs at a brisk pace.
For more information:
Visit our website: www.asmodee-digital.com
Like us on Facebook: https://www.facebook.com/asmodeedigital
Follow us on Twitter: https://twitter.com/asmodeedigital
Subscribe to us on YouTube: https://www.youtube.com/asmodeedigital
Follow us on Instagram: https://www.instagram.com/asmodeedigital
Twitch: https://www.twitch.tv/asmodeedigital
Press Kit: https://drive.google.com/drive/folders/1GkAhGN4q8_kO7wz-leDkIl9zhFE-ihJB
About Asmodee Digital
Asmodee Digital, a fully owned subsidiary of the Asmodee Group, is an international publisher and distributor of digital board games with operations located in Europe, North America, and China. Asmodee Digital manages the creation, design, development, publishing, and marketing of board and card games on leading digital platforms for Asmodee studios as well as for third-party publishers. The current Asmodee Digital catalog includes best-selling digital games such as Catan VR, Carcassonne, Ticket to Ride, Splendor, Agricola, Mille Bornes, Pandemic, Small World 2, Mr. Jack London, Colt Express, Mysterium, Potion Explosion, Onirim, Jaipur, Spot It! Duel, Abalone, Ticket to Ride First Journey, Catan Stories, Talisman, Fighting Fantasy Legends, Smash Up and digital versions of many other well-known board games.
About Hans Im Glück
Hans im Glück, founded 1981 in Munich, Germany, is an international boardgame publisher. Probably the best known brand held by HiG, is Carcassonne. This boardgames is licensed into about 30 languages and sold in about 36 countries. About 10.000.000 copies of this family were sold so far, only counting physical copies. Beside that, HiG has a strong reputation for strategic boardgames and won a large amount of international prices. For example 7 times the well known "Spiel des Jahres" in Germany. Other successful games sold, are for example: Stone Age, The Voyages of Marco Polo and Majesty-for the realm.
Nintendo Switch™ is a trademark of Nintendo.
© 2018 Asmodee Digital & Hans im Glück Carcassonne™ is a property of Hans im Glück. All rights reserved
# # #
Media Contact
TriplePoint for Asmodee Digital
asmodee@triplepointpr.com
(415) 955-8500