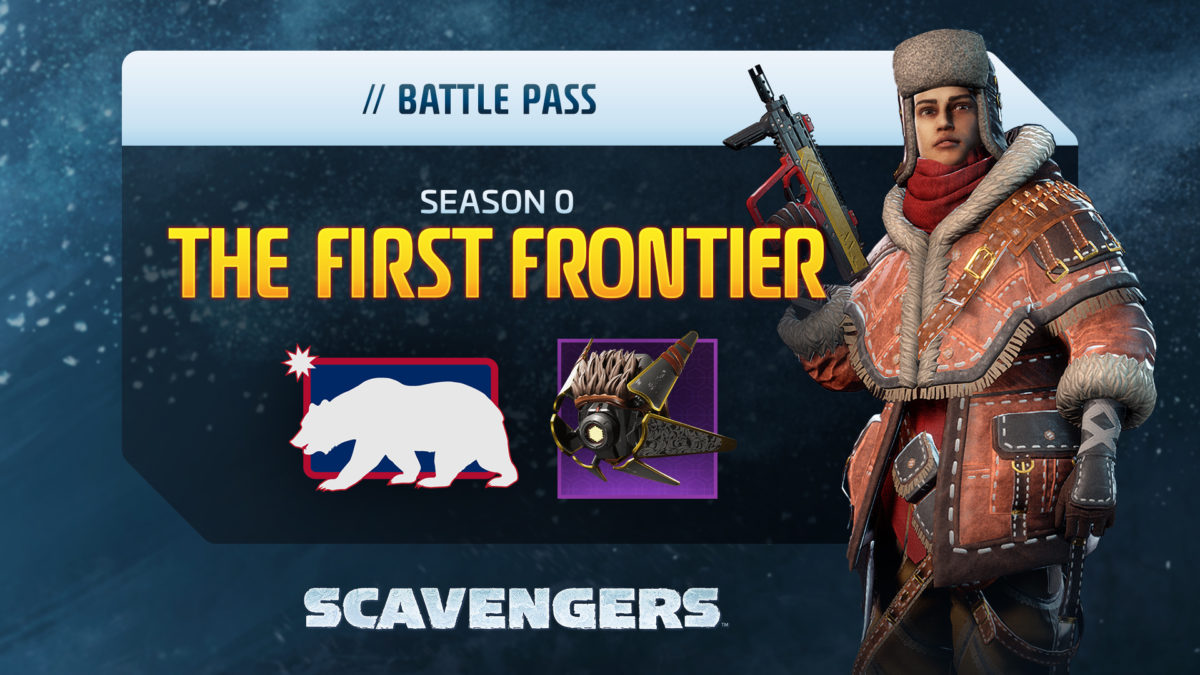 The first season will add a free Battle Pass, new PvE Horde mode, and more
Kirkland, USA – July 19, 2021 – Midwinter Entertainment today revealed the first season for Scavengers, the PvEvP survival shooter currently available in Early Access for PC. Season 0: The First Frontier kicks off on July 23 and concludes September 6, 2021. The season marks the introduction of the Battle Pass and a brand new game mode for Scavengers.
The Battle Pass contains unique First Frontier cosmetic items, including a First Frontier Cruz skin, weapon skins, banners, and emblems, as well as Chips and Research resources. Explorers can claim the Battle Pass for free until August 3, after which it will be available for purchase (starting August 4). The first reward – the Cazador First Frontier weapon skin – will be unlocked immediately after claiming the Battle Pass. More items will be added to the Battle Pass throughout the season.
Players can also jump into the first full new game mode since Scavengers launched into Early Access for PC. In the PvE Horde mode, teams of three Explorers must fight off waves of AI enemies to protect two data uplinks. As soon as enough data is gathered, Mother will call down the R.A.S.P., a new feature that allows for quick extraction back to the Sanctuary. The R.A.S.P. will also be added to the main Expedition mode during Season 0, offering Explorer's a strategic mid-game extraction.
More details for Season 0 can be found here.
Scavengers is currently in development for PC. It is available in Early Access on Steam and the Epic Games Store.
###
About Midwinter Entertainment
Midwinter is a new Washington-based video game development studio established by veterans of the Halo, Battlefield, and Call of Duty franchises, among many others. Josh Holmes (CEO), Fredrik Persson (CTO), Daryl Anselmo (Director of Art and UX), and Peter Burzynski (Director of Engineering) co-founded the studio after successful careers in AAA gaming. Holmes most recently served as Creative Director of Halo 4 and Studio Head of 343 Industries during the making of Halo 5: Guardians. Midwinter was acquired by Improbable in September 2019. For more information, please visit www.midwinter.net.
About Improbable
Improbable provides better ways to make multiplayer games, and helps multiplayer developers to meet any challenge. Designed specifically for game developers, Improbable's services include managed hosting & orchestration, networking, online services, development tools, as well as advice, support and full co-development.

Improbable also makes innovative multiplayer titles using its own technology, with studios in Canada, the US and Britain.
Founded in 2012 and headquartered in London, Improbable employs more than 600 staff in Europe, China and North America.
www.improbable.io