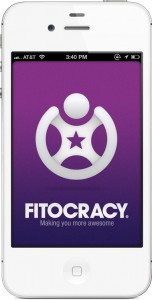 NEW YORK – March 29, 2012 – Fitocracy, the social platform that gets you addicted to fitness, leaves private beta today with the launch of the free Fitocracy app, available for download from the iOS App Store.  The highly-anticipated app arrives as the world's fastest growing and most active online fitness community eclipses a quarter of a million users since launching in February 2011. By tying the level-up and quest mechanics of popular RPG games to fitness goals, Fitocracy gets users of any fitness level excited and addicted to working out.
"It takes more than good routines and workout tracking to help people reach their goals. The engagement and motivation that Fitocracy's community provides—even in a limited beta—has been simply astonishing. With the Fitocracy app, we paid close attention to feedback and data analysis to design an experience that can help anyone get addicted to working out," said Brian Wang, Co-founder and CEO of Fitocracy.  "We've created a new way to encourage people to get into the gym and connect to an inspirational community that welcomes novices and seasoned gym-rats alike—a community that helps users break through the rough spots and get the results they never thought possible."
Users receive achievements and badges for hitting workout milestones, and can keep track of their own personal records in anything from yoga to weight-lifting. Fitocracy's quests also reward users for trying new things in the gym, be it barbell squats or a new sport.
"Fitocracy succeeds where others have failed because we focused on building a great community before putting the app together. Once we had that, we built a fitness app that's more beautiful and user-friendly than anything else on the market," said Co-founder Dick Talens, CTO of Fitocracy.  "We've really emphasized speed of use, personality, and making the app beautiful—many of our test users likened it to Path, or Flipboard, but for fitness—the result is an interface that makes even our top competitors' apps look seriously clunky."
About Fitocracy
Co-founded by Brian Wang and Dick Talens in 2010, Fitocracy's mission is to make fitness a more fun and addictive experience. Play Fitocracy to push your boundaries, complete fitness quests and challenge your friends.
Official Website |  Facebook | @Fitocracy
---
Media Contact
TriplePoint for Fitocracy
fitocracy@triplepointpr.com
(212)730-9744