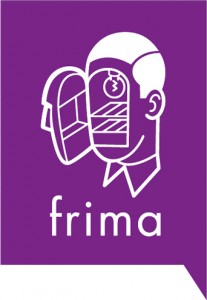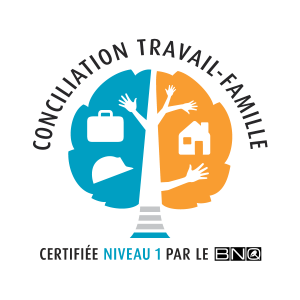 QUEBEC CITY – April 4, 2012 – Mission accomplished for the digital entertainment company Frima. One year after the Quebec Ministry of Family established their standards for work-family balance, Frima became the first company to obtain certification from the Bureau de normalisation du Québec (BNQ). Frima is particularly proud to reach this important milestone, demonstrating its leadership and commitment to offering employees an attractive and challenging work environment.
"The well being of our employees and their families is a core value at Frima, hence our investment in a robust work-family balance program. Today's recognition is a reflection of our ongoing efforts to promote a healthy balance between work and family life.  This certification further demonstrates that we are an employer ready to attract top talent both in Quebec and internationally," said Steve Couture, CEO of Frima.
"Hats off to Frima for putting work-family balance at the center of its priorities. We are pleased to see Quebec companies investing the time and effort to maintain a balance between the requirements and responsibilities of work and family life. We hope that Frima's example will inspire other companies to strive for this innovative certification developed by the BNQ," said Yolande James, Quebec's Minister of Family.
"The BNQ is pleased to award its first certification in work-family balance to Frima. With this unique certification Frima becomes the first company to be recognized for exceptional management practices in human resources. Businesses stand to gain by developing a strategy for maintaining a work-family balance and adherence to the standard allows the employer to structure its efforts. Our certification validates that an employer is responding adequately to the new realities of its employees and is ready to attract new talent," said Jean Rousseau, director of the BNQ.
With 350 full-time employees, maintaining the work-family balance is a constant concern for Frima. The company has put forth a multitude of initiatives that promote balance such as a system of "Frima points" that rewards employee performance with points redeemable for a range of services (tax return preparation, an in-home chef, odd jobs, renovation, relaxation packages, travel vouchers, etc.). Frima also offers several perks including flexible hours, free access to public transit, one week of paid leave between Christmas and New Year's Day and bonus leave under the Labor Standards Act.
About Frima Studio
Frima is Canada's leading independent game developer. Since 2003, the company has been developing world-class media including virtual worlds, social and web based games, console titles and mobile apps. Their services also include the animation and special effects expertise of Frima FX as well as the concept art development of Volta. In addition to working with world-renowned clients such as Electronic Arts, Activision, Warner Brothers and Ubisoft, Frima develops successful, original IP titles such as A Space Shooter for Free! and Zombie Tycoon. With over 350 artists and programmers to develop its products, Frima produces high-caliber products that are as remarkably outstanding artistically as they are technically. For more information, please visit www.frimastudio.com.
Media Contact
Sam Dalsimer,
TriplePoint
sam@triplepointpr.com
(646) 374-0186Olivier Duchesneau, Press attaché
Office of the Minister of Family
(418) 643-2181
Carole Roch, Communication advisor
Carole.Roch@criq.qc.ca
(514) 946-0226