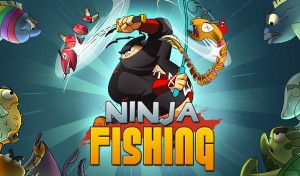 Gamenauts releases universal update on iTunes App Store
SAN JOSE, Calif. – April 23, 2012 – Gamenauts today announced that their mega hit iOS game, Ninja Fishing, is now fit to set sail on all iOS devices! After doubling its content—a new world and new fish—since launch, a universal update has since been made available on the iTunes App Store and is free for a limited time!

Now, iPad wielders can see the hefty ninja Otoro in full screen mode as he sails through the Tranquil Seas and shores of Dinosaur Island. There, Otoro will encounter a colorful cast of 60 modern and prehistoric fish to make the best plate of sushi. Earn gold with every fish slashed to purchase better hooks, more drill fuel, and a fancier boat, five in total including the Flaming Pumpkin Boat, Viking Ship and even a Time Machine!
Draw your rods and swords once again and fill that ever-growing ninja appetite that has already hit 4 million players worldwide! An even wider variety of sushi, more worlds, fish, and game modes are on the way to Ninja Fishing with the upcoming Treasure Hunting and Shipwreck Cove update coming soon!

About Gamenauts
Gamenauts is an award winning developer of Mobile, PC and Social Networks games, with a life-long mission to explore the vast, uncharted frontiers of interactive fun. They struck gold with their hit game series Cate West and Burger Rush in the PC casual gaming space. Partnering with Menara Games on the development of Ninja Fishing, Gamenauts invites players to join them on their voyage through the galaxies of games on multiple platforms.
Official Website | Facebook | @Gamenauts
Watch the trailer on YouTube
Download the press kit

Media Contact
Erin Fan, TriplePoint for Gamenauts
efan@triplepointpr.com
(415) 955-8500