Brain Candy introduces new XP system and in-game chat for beta testing
PARIS – May 16, 2012 – Brain Candy, a high fructose independent French game developer, opens the Beta period of its upcoming sci-fi squad-based strategy title, Fray, coming to PC and Mac in Summer 2012. Recruits can now head over to www.fray-game.com to sign up for a slice of the action and also pre-order the game.
To celebrate its Beta period, Brain Candy has released two new features players can get their hands on in the combat module. The XP system allows players to gain experience in combat to beef up squad strength. The in-game chat is the main hang-out for players looking for a fight! Arrange where to meet on the battlefield, swap battle stories and strategies, or just talk.
Pre-ordering the game for $19.99 on www.fray-game.com will not only guarantee beta access but also guarantee that XP points gained during beta will carry over to launch. All pre-orders will also be rewarded with a free extra copy for recruiting friends to the battlefield.
Enter the dystopian year of 2098 where most human interaction is confined in cyberspace while three mega-corporations vie for control of Earth and its remaining resources. Within combat module Fray, players must pledge allegiance to one of the corporations and control a squad of four soldiers of unique classes, weapons, and abilities. To engage in combat, players must assign actions to each squad member. It is then when players will finally see the fruits or failures of their labor while the action is played out in real-time cinematic fashion. Keen observation, predicting an opponent's moves, and the wisdom of experience are key to emerging victorious.
View the trailer here: www.youtube.com/watch?v=8xD-HR6rfC0
For more information and to pre-order the game, please visit the official website at www.fray-game.com or visit Brain Candy at www.braincandy.fr
Follow Brain Candy on Twitter at www.twitter.com/braincandygames
About Brain Candy
Brain Candy is an independent, sugar-coated, fun-loving, sweet and chewy game development studio from Paris, France. Brain Candy specializes in serious, hardcore games developed with the humorous enthusiasm of its team. They are currently creating their first game for Windows and Mac using the Unity Engine.
Official Website | Facebook | @BrainCandyGames
---
Assets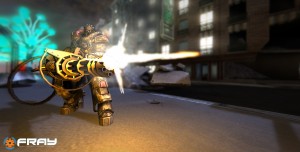 Download the press kit
---
Media contact
Sam Dalsimer, TriplePoint for Brain Candy
sam@triplepointpr.com
(212) 730-9744