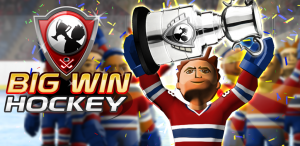 VANCOUVER – May 17, 2012 – Puckheads rejoice! Independent game developer, Hothead Games, today announced the release of Big Win Hockey on Google Play.
Hockey fans with Android devices can now create and customize their own team and then hit the ice and compete with opponents around the world. Card packs are available which can help to increase players' skills, power up the team and influence the game, so that players can go for the Big Win.

Big Win Hockey features:
Full team and player customization for your very own fantasy hockey team
Bronze, Silver and Gold card packs to find new players and boost their skills
Big Impact cards that come to life during a match to improve chances
Earn coins and Big Bucks from playing matches, leveling up, and winning the Daily Trophy
Friends Trophy mode for up to 10 players to compete against each other
Accessible and addictive gameplay for everyone
Big Win Hockey is available on Google Play now for free!
About Hothead Games
Hothead Games, headquartered in Vancouver, British Columbia, is an emotionally secure independent developer and publisher of groundbreaking downloadable titles. Maybe we don't have a "make your own ice-cream sandwich bar" like some other game companies, but Hothead has brought to life original games such as the scientist-approved DeathSpank and the award-winning Sea Stars. Hothead is also partnering with cool indie studios to bring games like Braid to new platforms and new audiences. We also like to stand near really ugly people so that we appear more attractive ourselves.
Official Website | Facebook | @HotheadGames
---
Download the Big Win Hockey press kit
Watch the Big Win Hockey trailer on YouTube

---
Media Contacts
Ellen Manuszak, 
TriplePoint
for Hothead Games
ellen@triplepointpr.com
(646) 462-3166
Oliver Birch, Director of Marketing, Hothead Games
marketing@hotheadgames.com