Solve your way through 100 challenging levels in PuzzleSocial's first mobile title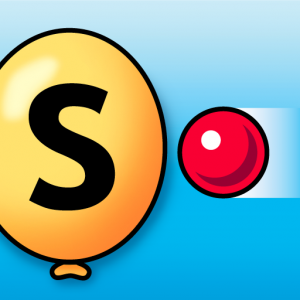 NEW YORK – June 7, 2012 – Today, PuzzleSocial announces the launch of Spellet, an action-packed puzzle title for iOS. In its first mobile launch, PuzzleSocial puts players to the test with a tantalizing, fast-paced mix of strategy and action. The game is now available in the App Store for $0.99.
Spellet includes 100 challenging levels that escalate in difficulty from easy to expert. Pop the lettered balloons in the correct order to spell the target word using a ricocheting pellet fired from one of the four corner cannons. Later levels feature longer words, rubber bands to redirect the pellet and lettered bells that must be hit multiple times.
Game features include:
100 unique levels
Adjustable rubber bands to redirect your pellet. The most complex levels require positioning up to four bands
Bells that must be rung multiple times to complete the target words
New twists at every turn, such as balloons that must be avoided, cannons that only fire under certain conditions, rubber bands that break after a single deflection and "backspace" balloons that delete letters
A built-in hint system
Download Spellet by PuzzleSocial from the App Store!
Assets
About PuzzleSocial
PuzzleSocial is a social gaming company based in New York, NY. The company is committed to the long-term goal of reinventing audience-driven games, pastimes, and activities across social networks to create richer, more enjoyable gaming experiences.
Media Contacts
Zach Fuller, TriplePoint for PuzzleSocial
zfuller@triplepointpr.com
(917)338-3997