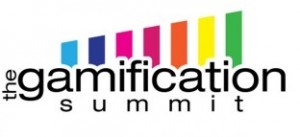 Sold out conference continues to grow, brings hands-on gamification workshops and distinctive speakers to San Francisco

SAN FRANCISCO– June 19, 2012 – The third and largest Gamification Summit, the event where professionals from across industry come together to discuss, analyze, and share the science of behavior change and engagement, begins today. Kicking off with a series of sold out workshops where summit chair Gabe Zichermann and other experts will give interactive, hands on lessons on how to design and implement gamified systems, GSummit continues tomorrow and Thursday with a jam-packed agenda of speaker sessions, featuring accomplished professionals from a wide range of industries.
Highlights of the 2012 Gamification Summit include:

The biggest GSummit ever – With over 650 attendees expected and over 50 speakers giving talks, GSummit continues to grow and gain momentum.
A wide-ranging and diverse agenda – Speakers from companies like SalesForce, NBC/Universal, Zamzee, The Kahn Academy, and Spigit  will cover topics ranging from the enterprise and marketing to education, healthcare, and government.
Parallels industry growth – The popularity of GSummit mirrors the continued growth and momentum of the gamification industry at large, which is projected to reach $2.6 billion by 2016.
GSummit's diverse speaker line-up ranges from a blackjack expert, to a teenage techie, to game designers, CEOs, and beyond. Speakers will share knowledge, experiences, and best practices regarding multiple facets of gamification and its implementation across various business sectors. In particular, keynote addresses from experts at corporate powerhouses United Airlines and Salesforce should not be missed.
On Wednesday, Krishnan Saranathan, Managing Director of United Mileage Plus will address the modern business-consumer relationship in his keynote "Reinventing Loyalty: How Gamification Reshapes Consumer Marketing".  On Thursday JP Rangaswami, Chief Scientist of Salesforce will provide insight into how companies are engaging their employees in his keynote "Engage Employees and Drive Innovation with Gamification".
For enthusiasts eager to catch some of the GSummit action but unable to attend, a livestream of GSummit is also available via Fora.tv at http://bit.ly/LAWhzz. To learn more, please visit http://GSummit.com.
About Gamification Co
Gamification Co is the only transmedia company exclusively dedicated to Engagement Science and Gamification. The group publishes the Gamification Blog and related books, organizes The Gamification Summit & Workshops and provides consulting expertise to facilitate this burgeoning industry.
Gamification is the use of game thinking and game mechanics to solve problems and engage audiences, and its power is radically reshaping industries from marketing to HR, education to health care, improving lives, solving problems and generating unprecedented growth. Gartner Group forecasts that Gamification will be used by 70% of the Global 2000 by 2015, spending over $2Bn on related products, services and technologies according to M2 Research. For more information on Gamification Co and how to leverage the power of game mechanics, visit http://Gamification.Co.
Official website | Facebook | @gsummit2012