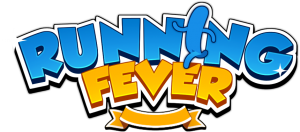 Casual social game delivers running arcade action just in time for the Summer Olympics, including chance to win Samsung Galaxy S3 smartphone
NEW YORK – July 25, 2012 – 9Fruits, a social game developer in South Korea, today announced the launch of Running Fever on Facebook. A new action arcade game, Running Fever pits players from around the world against each other in customizable races. Easy-to-learn controls, combined with a relaxed gameplay atmosphere, make Running Fever a great game for casual social gamers. With the London Summer Olympics fast approaching, this is a great way to experience the thrill of sprinting, hurdles, and bolts of lightning (?!?). To celebrate the opening of the worldwide Running Fever games, 9Fruits will be holding a competition starting today, with a chance for the world's fastest online athlete to win a Samsung Galaxy S3 smartphone. Play Running Fever online now: https://apps.facebook.com/runningfever
Running Fever takes players to the track as they create a custom avatar to compete against other racers from around the world. Gamers will use renewable race tickets to enter a competition, choosing a specific racetrack and running against three other runners at a time. Utilizing special skills and different items, players aim to finish three laps as quickly as possible, all while jumping hurdles and avoiding different obstacles. By completing races, gamers increase their league ranking, running experience, and are rewarded with Running Coins, which they can use along with purchased Cash to upgrade their avatar with new skills, items, and clothing. A simple user interface offers easy navigation throughout the game, and Facebook integration makes it simple to challenge friends, creating a great social experience.
Starting today, Running Fever players will have the chance to compete for premium prizes. Any new athletes who sign in to play the game between now and August 25th, 2012, will be entered to win $10 in Facebook Credits; 100 players will be selected to win at random. In addition, top runners will have a shot at the grand prize: the player who turns in the top time on a designated event map will take home a Galaxy S3 from Samsung, with runners-up winning hundreds of dollars in Facebook Credits.
Be sure to check out the gameplay trailer for Running Fever here: http://www.youtube.com/watch?v=00PZgausyk4&feature=youtu.be
Running Fever features:
Customizable Race Settings – Race against three other runners at a time, choosing from different tracks (practice, stadium, desert, and ice), characters, and skill levels to create a custom competition
In–Game Rewards – Complete races to earn experience, league points, and usable items
Character Progression – Beat the competition and progress through 5 different leagues, in addition to increasing character stats in speed, balance, and stamina
Complete Quests – Work with trainers and other NPCs to complete quests and earn Running Coins, with in-game tutorials to help beginning runners
Customizable Avatars – Use Running Coins or purchased Cash to upgrade and buy an avatar, purchase new skills, and obtain new items
Simple UI – Use the World Map to access the News, Post Office, Shop, My Room, and Stadium areas
Social Competition – Compete with friends through Facebook
Worldwide Leaderboard – Become ranked against others around the world, with the top leaderboard runners for each season (one week) winning prizes
Running Fever will get your competitive spirit pumping. Check it out today for free on Facebook: https://apps.facebook.com/runningfever
Assets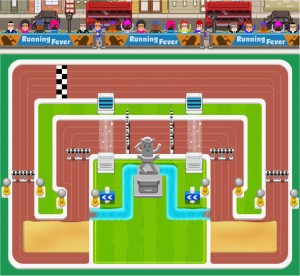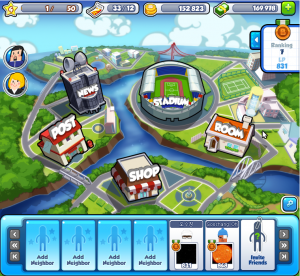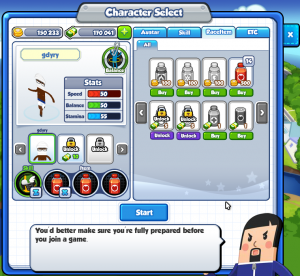 View the gameplay trailer for Running Fever:  http://www.youtube.com/watch?v=00PZgausyk4&feature=youtu.be
Download the Running Fever press kit here: http://www.triplepointpr.com/dl/Running%20Fever%20Press%20Kit.zip

About 9Fruits
9Fruits is a digital media consultant and developer of social Facebook games based in South Korea. Their debut title is Running Fever. For more information please visit www.9fruits.com.
---
Media Contact
Phillip Klugman, TriplePoint for 9Fruits
pklugman@triplepointpr.com
415-955-8500