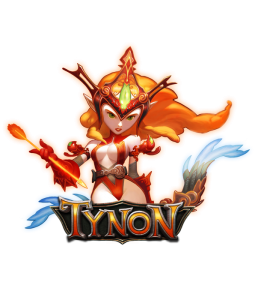 Take up arms to save the world and rebuild the Imperial City in the first story-driven social game
NEW YORK – July 26, 2012 – uCool, Inc, an independent games studio composed of veterans in the social gaming space, today announced the launch of Tynon, a social fantasy RPG / city-building game. Developed by the team that created Evony, Tynon introduces new concepts to the social gaming landscape, combining a mix of established online game mechanics with story-driven, RPG gameplay and vivid art and animations. Play Tynon for free now at: http://tynon.ucool.com/.
In Tynon, players control the elite knight Rosaline in a quest to rescue her king and save the realm from an evil wizard's plot, battling wicked goblins, serpent queens and feisty dwarves across 100 different, hand-drawn levels. On their journey, players will build up a roster of unique heroes, collect epic loot and ultimately rescue the world of Tynon.
In addition to questing through underwater cities, enchanted forests and more, players are tasked with helping to rebuild the once-magnificent Imperial City. Gamers customize and upgrade their city by building houses, shops and farms, collecting currency and other resources to improve their heroes and continue the fight. Players may cooperate with friends on Facebook and other social networks to gain extra resources, or, additionally, fight their friends in the game's PvP arena.
Key features include:
Build an Empire – City-building mechanics let players create their own custom kingdoms
Single Player Adventure – Travel the realm and battle different foes across 100 levels, collecting unique heroes, epic loot, gold, and other resources
Animated Combat – Vivid battle scenes provide for an immersive single-player experience
RPG Customization – Adventurers select which heroes make up their party, customizing them with special weapons, armor, and more
Interact with Friends – Utilize the help of friends to upgrade cities, as well as gain resources by visiting and maintaining their towns
PvP – Strengthen heroes and improve party formations to defeat friends and online foes, or race other players in daily resource challenges to win awards and recognition on worldwide ranking boards that scale by player level and time played
Conquer Quests – Complete quests to receive gold and gems, which can be used to upgrade weapons and armor, level up heroes, and construct special buildings
To learn more about the world of Tynon, visit http://tynon.ucool.com/
---
Assets

Trailer URL: http://www.youtube.com/watch?v=HCO1bdWSJA4
Download the press kit with assets and fact sheet here: www.triplepointpr.com/dl/uCool/Tynon_DPK.zip
---
About uCool, Inc
uCool, Inc is a US private corporation that provides products and services in the social entertainment industry sector. Social entertainment is defined as the combination of entertainment (i.e. video games, action and reward software, contests, media) augmented with social media technologies and platforms (i.e. Facebook, LinkedIn, Friendster, G+). Our global operations encompass studios located at Boston, Los Angeles, New York, Qingdao, Sydney and Tokyo.
---
Media Contact
Stephanie Palermo, TriplePoint for uCool
spalermo@triplepointpr.com
(212) 730-9744