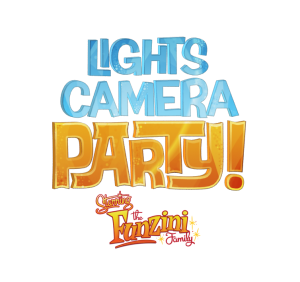 Frima Gets the Party Started with PlayStation Move on August 28
QUEBEC CITY – July 31, 2012 – Frima Studio, Canada's leading independent game developer, today announced that Lights, Camera, Party! will be released on August 28. Powered by the Unreal Engine, this fast-paced, motion-controlled party game will be available for download on the PlayStation® Network for $29.99.
Feed pizza to an angry dinosaur, throw bananas at a sleeping crowd of monkeys, blast cow-stealing UFOs, jump over a kiddie pool full of hungry sharks and obliterate candy-filled piñatas. All this and so much more in this unique, insanely hilarious multiplayer party game for up to 8 players!
Lights, Camera, Party! features:
A full story mode
5 playable characters
3 crazy party modes
50 unique mini-games
A dozen trophies and 200 in-game achievements
Up to 8 simultaneous players
Pass and play functionality, only one PlayStation®Move controller needed
Unreal powered polished 3D graphics
Learn more about Lights, Camera, Party! at http://www.lcpgame.com/ and download the press kit here.
About Frima Studio
Frima is Canada's leading independent game developer. Since 2003, the company has been developing world-class media including virtual worlds, social and web based games, console titles and mobile apps. Their services also include the animation and special effects expertise of Frima FX as well as the concept art development of Volta. In addition to working with world-renowned clients such as Electronic Arts, Activision, Warner Brothers and Ubisoft, Frima develops successful, original IP titles such as A Space Shooter for 2 Bucks! and Zombie Tycoon. With over 350 artists and programmers to develop our products, Frima produces high-caliber products that are as remarkably outstanding artistically as they are technically. For more information, please visit www.frimastudio.com.
Official Website |  Facebook | @FrimaGames
---
Media Contact
Sam Dalsimer, TriplePoint for Frima Studio
sam@triplepointpr.com
(212) 730-9744