Leader in mobile games teams up with Amazon to bring renowned franchise to new Android audience
SAN FRANCISCO – Oct. 29, 2012 – PlayFirst® Inc., a leading mobile game developer for family entertainment, announced it is working with Amazon to bring its globally admired games to Android for the first time, starting with Diner Dash® on Kindle Fire Tablets. Diner Dash, the cornerstone of one of the most popular game franchises of all time with over 650 million downloads to date, makes its exclusive Android debut today on Kindle Fire Tablets.
"We're excited to bring beloved games like Diner Dash to our global fans on Kindle Fire Tablets," said Marco DeMiroz, President & CEO, PlayFirst. "We know there's a lot of pent-up demand for the Dash series on Android, and by teaming with Amazon we are able to welcome millions of new members to the PlayFirst mobile family."
PlayFirst's strategic launch with Amazon expands its leadership in the mobile games market, where the developer continues to build on its chart-topping success on iPhone and iPad. PlayFirst plans to remain a leader in the mobile gaming space as devices like Kindle Fire Tablets take on an increasingly important role in family entertainment. Following the launch of Diner Dash on Kindle Fire Tablets, PlayFirst will serve up its delightful games to millions of new users across dozens of Android devices.
Diner Dash is now available for Kindle Fire (1st Generation), the all-new Kindle Fire, and Kindle Fire HD 7". Flo will also make her way to the Kindle Fire HD 8.9" when it launches on Nov. 20. Players can download Diner Dash now for free from the Amazon Appstore for Android, with the option of upgrading to the full game for $0.99.
About Diner Dash
Diner Dash follows former stockbroker Flo as she quits her day job, rolls up her sleeves and grows a greasy roadside diner into a five-star restaurant. As the most influential time-management game in history, Diner Dash tasks players with taking orders, serving up food and keeping customers happy as Flo pursues her dreams. Diner Dash has captivated players across all age groups and expanded into a massive franchise with over 650 million total downloads.
About PlayFirst
PlayFirst's mission is to be the leader in mobile games for family and friends. With over 650 million downloads worldwide, games in the Dash portfolio, including Diner Dash, Wedding Dash®, Cooking Dash®, Hotel Dash®, SpongeBob Diner Dash® and Hotel Transylvania Dash® are the global leaders in mobile entertainment. PlayFirst games are crafted using the PlayFirst Recipe for Fun™, which uniquely combines brand, characters, relatability, engagement, authenticity and quality, with feedback from its worldwide player base, to create hit after hit, including the most recent hit mobile games, Hotel Transylvania Dash and Mall Stars®. For more information, please visit www.playfirst.com.
Official website | Facebook | @PlayFirst
PlayFirst, Diner Dash, Wedding Dash, Cooking Dash, Hotel Dash and Mall Stars are registered trademarks of PlayFirst, Inc. All other trademarks are property of their respective owners.
---
Assets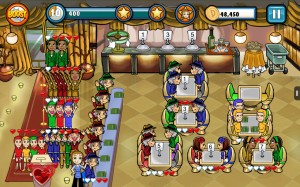 A digital press kit for Diner Dash for Kindle Fire Tablets may be downloaded here.
---
Media Contacts
TriplePoint for PlayFirst
playfirst@triplepointpr.com
415-955-8500
Lauren Quan, PlayFirst
lauren@playfirst.com
510-520-3468