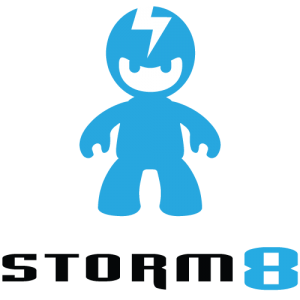 200 million players worldwide now play a Storm8 game
REDWOOD CITY, Calif.  – Jan. 22, 2013 – Mobile social gaming leader Storm8 today announced that its mobile gaming network continues to grow at a fast pace and now serves more than 10 million daily active users (DAUs). The company also announced that its network now reaches 200 million players worldwide. Storm8 has doubled its DAU and user base in less than a year through continued expansion into new game genres, like Social Arcade and Social Casino, attracting brand new audience of players.
"We saw the value of building a mobile game network since Storm8 was founded and this has enabled us to consistently engage our current users and draw in new players," said Perry Tam, Storm8 CEO. "We're seeing that a player's lifetime is three times longer within a mobile game network than with just a single game. This reinforces the importance of expanding into multiple genres and offering high-quality games to extend our footprint in such a hyper growth, hyper competitive industry."
From a single mobile game launched in 2009 to more than 30 hit games today, Storm8 has grown to more than 175 employees working out of its recently expanded headquarters in Redwood City. Storm8 will continue to grow its gaming portfolio to attract a diverse audience of loyal players.
Storm8's strong, private network has enabled the company to maintain complete independence, taking no outside investment and allowing it to market new products with little to no marketing expenses.
Highlights of Storm8's rapid rise include a consistent presence of multiple apps in the App Store's Top Free Apps and Top Grossing lists, exceeding two million app downloads in one day in December 2012 and accumulating more than 400 million downloads across its network of games.
For more information, visit www.storm8.com.
---
Assets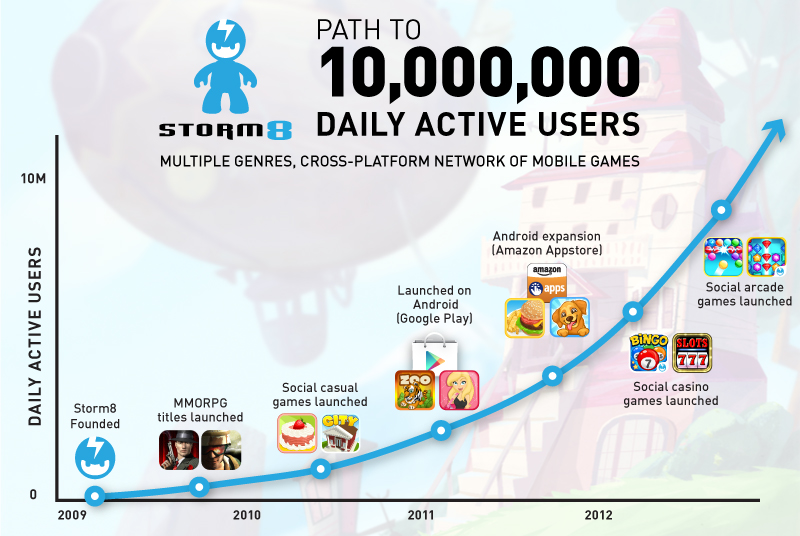 Download the high-resolution infographic by clicking here.
---
About Storm8 Inc.
Founded in 2009, Storm8, Inc. is the leading developer of social games for iOS and Android, with more than 400 million total downloads to date. Storm8 is also home to three innovative brands TeamLava, Shark Party and FireMocha. Under these brands, Storm8 has amassed a network of over 100 million devices worldwide and continues to create engaging mobile social games that span genres – from casual arcade hit Bubble Mania, to social casual games like Pet Shop Story, Restaurant Story, Bakery Story and Dragon Story, to MMORPGs like World War, iMobsters and Vampires Live, and social casino games like Slots. Storm8 is headquartered in Redwood City, California. For more information, please visit www.storm8.com.
Trademarks
Storm8, TeamLava, Shark Party, FireMocha and the Storm8 network games are trademarks of Storm8 and/or its affiliates. Other names may be trademarks of their respective owners.

---
Media Contact
TriplePoint for Storm8
Storm8@triplepointpr.com
(415) 955-8500