New DoubleDutch Events App Improves Attendee Engagement and Organizer Insight, Powers Recent MCPc Event
SAN FRANCISCO – March 4, 2013 – DoubleDutch, the leading provider of mobile applications for enterprise events and conferences, today announced a brand new User Interface (UI) for its successful app, DoubleDutch Events. Designed to deliver the best event experience for attendees and exhibitors, DoubleDutch Events features a new and improved interface with cutting edge navigation features, making it easier to access menus and social feeds. The goal of the redesign is to create maximum social engagement within the event app in order to deliver deeper insight for event organizers and sponsors. DoubleDutch is the only company taking this radical approach of "in-app" social networking to provide data insights and attendee engagement.
Powering events from the world's leading organizations including Cisco, Roche, Lowe's, Wells Fargo, Nationwide, Box, and Eloqua, DoubleDutch's new UI provides attendees faster and more immediate access to critical event resources and tools. With faster loading times and a highly intuitive interface, attendees can easily access the app's native activity feed, agenda, and resources.  Show organizers also have complete control of their event app. They can customize the look and feel of the app, making the app a true extension of the event brand. DoubleDutch is the only event app vendor that also offers the ability to surface real insights about attendee preferences and generate post-event engagement reports that reveal critical data based on real-time attendee behavior.
"We just used the DoubleDutch Events app at our recent National Kick Off, and the insight and engagement we gained was incredible," said Jed Ayres, SVP Partner Management and Marketing, MCPc. "Our entire organization loved the app's social features and super speed. Attendees were more connected and informed than ever before, and the best part is, it's all measurable! This type of app would be beneficial for any event organizer or attendee, because it quite simply delivers feedback, speed, and value unlike anything we've used before."
Built on a truly mobile-first approach, DoubleDutch Events offers unbeatable advantages over its competitors. Taking event apps beyond a simple list of panels or sessions, DoubleDutch turns that content into a seamlessly social experience, allowing attendees to "check-in" to sessions, bookmark favorite exhibitors, and meet other attendees in an organic and relevant way. With a specifically crafted layout unique to each event and full pre-conference installations, only DoubleDutch Events puts every detail just a tap or swipe away.  Organizers can also unlock new sponsorship and monetization strategies through the new 'Promoted Posts' feature. Similar to Twitter or Facebook advertising, the DoubleDutch platform offers a non-intrusive way to educate attendees with product promotions and important news. As all of this activity takes place, organizers can easily track behavior to reveal vital business-boosting insights.
These advancements reinforce DoubleDutch Events' position as the ideal tool for customers to deliver the most successful events possible, engaging attendees in new ways and offering data available nowhere else. DoubleDutch Events supports today's most popular mobile platforms such as iOS, Android, and HTML5. To learn more about the DoubleDutch Events app, please visit: http://doubledutch.me/event-app.html
Founded in 2011, DoubleDutch is leading the way in the development of next-generation software that drives real-time engagement with users to provide greater insight and intelligence for businesses. DoubleDutch believes that software should be mobile, engaging, and insightful – a philosophy wherein they create appealing solutions on the devices that people already own. The company's leading mobile event solutions have already amassed more than 200,000 users at top companies, including Cisco, Roche, Lowe's, Nationwide, Wells Fargo, Masco and NetApp.


---

About DoubleDutch
DoubleDutch offers the most innovative, engaging mobile conference application in the events industry. DoubleDutch Events is designed for companies to thrill event attendees, surface leads, and host engaging, data-driven events with advanced mobile technology. Companies like Cisco, Roche, Wells Fargo, Lowe's, and Bristol-Myers Squibb are using DoubleDutch at meetings and conferences worldwide. Get a branded mobile app to engage conference attendees today. Learn more at http://doubledutch.me/ or follow us on Twitter @doubledutch.
Official website| Facebook | @Twyperlink

---
Assets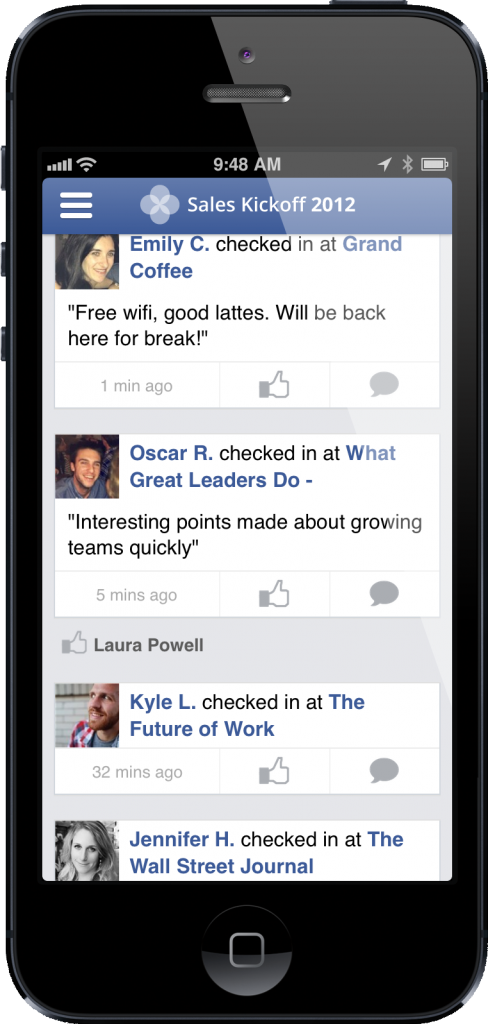 Download the full press kit here. 
Media Contact
TriplePoint PR for DoubleDutch
doubledutch@triplepointpr.com
(415) 955-8500