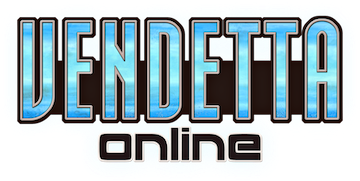 Grand Scale and True MMO Experience Across PC, Mac, Linux, Android, and now iPad Platform
MILWAUKEE, Wis. – April 4, 2013 – Guild Software, an award-winning independent game developer, today announced that the groundbreaking space MMO, Vendetta Online, will be released on the iPad on April 17. Vendetta Online is currently available on PC, Mac, Linux and Android, providing seamless gameplay between platforms in the same interstellar gaming universe.
Features of the iPad version of Vendetta Online include:
Grand scale – Explore 30 star systems, each containing 256 different sectors, adding up to 7680 regions of explorable space.
Twitch-based space combat – Utilize both tilt and on-screen touch inputs to control your starship.
True MMO experience on iPad – Unique interstellar missions and real-time PvP space combat.
Seamless gameplay between platforms – Play via PC, Mac, Linux, Android and iOS all in the same gaming universe.
Single player "Free Play" mode – Perfect your flying technique and enjoy minigames offline.
Launched in 2002, Vendetta Online plants players as spaceship pilots in a vast online galaxy. Navigating the universe, players can battle enemy combatants and enter complex missions in order to hone their skills. With multiple character paths and infinite customization, Vendetta Online brings intense real-time PvP action to the iPad.
Vendetta Online is $0.99 (includes one month of free play) with a $1/month subscription.
Members of the press interested in reviewing Vendetta Online on iPad are encouraged to contact Samantha Qualls at TriplePoint PR by emailing Samantha@triplepointpr.com.
Assets
Download a press kit here.
About Guild Software
Guild Software is an independent game developer based in Milwaukee, Wisconsin. Founded in 1998, the company has continually pursued the cutting edge in large-scale multiplayer environments. Developing a completely proprietary MMO engine from scratch, these efforts culminated in the successful launch of Vendetta Online TM. Guild software continues to expand upon Vendetta Online, using the title to further both the game and the NAOS Engine on which it is based, striving towards the next generation in unbounded, evolving worlds.
Official Website | Facebook | @VendettaOnline
---
Media Contact
Samantha Qualls, TriplePoint for Guild Software
Samantha@triplepointpr.com