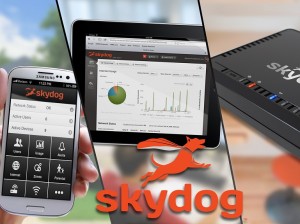 Cloud Networking Innovator PowerCloud Systems Begins New Era in Home Networking using Mobile to Control Connectivity in the Home
PALO ALTO, Calif. – Apr. 9, 2013 – PowerCloud® Systems, a pioneer in cloud networking, today unveiled Skydog™, a powerful, user-friendly approach to home networking and the management of family Internet use. Skydog is the first solution to deliver comprehensive visibility into and control over the home network, as well as the first to do so from any mobile device on any Internet connection. Launching today on Kickstarter at www.Skydog.com, and with first products available to backers in May 2013, Skydog is poised to disrupt the home networking market.
"Skydog redefines how consumers view and make use of their home networks," said Jeff Abramowitz, founder and CEO of PowerCloud Systems. "Our beta users have found that Skydog's real-time visibility, management capabilities, and unparalleled ease-of-use enables them to save time, avoid frustration, and improve the performance of their connected home."
In recent years, home networks have become central to the connected lifestyles of adults, teens, tweens, and even young children. The vast array of Internet services and apps, coupled with a proliferation of connected devices, has challenged shared bandwidth in the home and – for many families – parental oversight of kids' online access. Skydog addresses these challenges in a powerful, yet intuitive and user-friendly manner.
The innovation of Skydog lies in its patented cloud-powered platform. The product includes a powerful Wi-Fi router and a cloud-based application that can be accessed from any smartphone, tablet or PC, from any location. This allows home network administrators, who are often busy parents, to see and control home Internet usage, even when they are away. Skydog revolutionizes home networking in three key areas:
–  Real-Time Visibility:
Monitors the network, including who is online, which devices are being used, what websites are being accessed and how much bandwidth is being used.
Sends text alerts when specified issues arise, such as an Internet outage, or a new guest seeking to access the network. Skydog can also speed diagnosis of problems and their resolution, such as checking Wi-Fi signals of devices or by remotely re-cycling the router.
Notifies the administrator or individual user when time limits on specified websites have been reached, even when the website is accessed across multiple devices.
–  Easy and Powerful Home Network Management:
Actively manages broadband usage by assigning priority bandwidth access to certain users, such as a work-at-home parent, or applications, such as a streamed movie to the family room television.
Enables time limits for specific website access by user, covering all devices, based on a calendaring system, such as school days versus weekends.
Provides firewalled guest access, granting an extra layer of security to the family network.
Skydog routers can be installed in remote locations, such as a parent's home or vacation property, and managed from the same mobile application.
–  Ease of Set-up and Use:
Installation is easy using the Skydog mobile companion. Skydog also works alongside existing routers, such as those providing back up or integrated with broadband gateways, to provide the additional functionality only available with Skydog.
Organizes attached devices by primary user to simplify actions like setting policies on application or Internet use.
Powerfully simple HTML5-based app for any mobile device allows anytime, anywhere visibility and control of users and devices on the home network.
By providing straightforward visibility and control over the home network, Skydog ushers in the next generation of home network management, enabling the entire household to save time and improve their connected experience.
"The home network market has been static for a few years now, with the focus primarily going to 'speeds and feeds,'" said Patrice Samuels, research analyst at Parks Associates. "While some in the industry have taken preliminary steps to offer advanced home networking features such as remote management and control, Skydog unlocks the black box that is the home network via their unique network management tools."
Skydog has undergone extensive in-home testing by more than 75 users with overwhelmingly positive feedback.
"We are a family of six and actively use the Internet daily with iPhones, iPads and iPods. The greatest benefit to me is being able to see when and how much bandwidth is being used by whom," said Tony T. from Indiana, one of Skydog's 75 beta testers. "The ability to assign bandwidth by device or application is just critical."
"This has been a great experience with a groundbreaking, novel approach to home networking," said Dawn H., another beta user from Illinois and a mother of three children. "I have shied away from messing with my home network for years, just doing what I had to when I had to because the whole process was so painful. This system is so delightful to use that I want to poke around just to see what's going on."
The Origin of Skydog
PowerCloud Systems is a spinout from the Palo Alto Research Center (PARC), the legendary subsidiary of Xerox responsible for the creation of Ethernet, the Graphical User Interface (GUI), and the laser printer among other innovations. The executive team is drawn from the leaders and innovators of cloud-based services and home networking, including Broadcom, NETGEAR, 3Com, Synchronoss and HP. The company's cloud platform currently has more than 10 patents. While their platform can and does serve the enterprise market, the team recognized the unmet need for a mobile-based solution that could provide visibility and control over the home network, particularly for families.
Kickstarter Details and Availability
Interested users can see Skydog's Kickstarter offering here: www.Skydog.com. The Skydog router and the initial application are complete, with some first production units already in stock.  "Early bird" backers will receive their Skydog home network package in May 2013 at a special pledge price of $79. Other backers can access Skydog's second production run for a pledge of $99 for one unit, or $179 for two Skydog units. There are no annual fees for Skydog or its mobile companion application. The Skydog home network package includes the mobile companion application available on any tablet, PC/Mac and smartphone and a high-performance and compact concurrent dual-band 802.11n wireless router with a built-in 5-port gigabit switch.
Please follow Skydog on Facebook (https://www.facebook.com/skydoghome) and Twitter (@Skydog).
About PowerCloud Systems
PowerCloud® Systems is a leader and industry pioneer for cloud-powered wireless networking. The company's patented and award-winning CloudCommand™ technology was invented at the Palo Alto Research Center (PARC) and makes deploying and monitoring Wi-Fi networks and services easy for businesses with mobile customers. The CloudCommand platform is deployed worldwide in hotels, schools, retail chains, managed care facilities and other businesses seeking truly affordable, enterprise-grade Wi-Fi. Investors include PARC, Qualcomm Ventures, Javelin Venture Partners and Walden Venture Capital. More information can be found at www.powercloudsystems.com
---
Media Contact
Andrew Karl, TriplePoint for Skydog
akarl@triplepointpr.com
415-955-8500