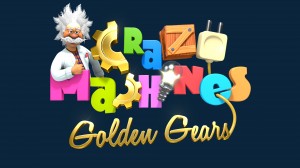 Rube Goldberg style puzzle game now allows users to play each other's original puzzles.
NEW YORK – April 11, 2013 – Viva Media, a New York based game publisher, announced the inclusion of a level editor to the award winning "Rube Goldberg" style puzzle game, Crazy Machines GoldenGears. The level editor allows players to create and share their own puzzles in a new thriving community. Crazy Machines GoldenGears is optimized for Android devices and available on any iPad, iPhone or iPod. Download Crazy Machines today for $2.99 on the iTunes Store, Google Play, or Amazon.com!
iTunes Download link: https://itunes.apple.com/us/app/crazy-machines-golden-gears/id499886449?ls=1&mt=8
Google Play link: https://play.google.com/store/apps/details?id=com.vivamedia.cmGGTHD
Amazon.com link: http://www.amazon.com/Viva-Media-Crazy-Machines-Golden/dp/B00AC5Q39K
In Crazy Machines GoldenGears, players choose from a large inventory of parts and pieces to creatively solve puzzles that require you to construct a contraption to meet the goal in a unique way. With dazzling visuals and attention to detail, the experiments and challenges are brought to life through the use of explosives, fire, physics and users' own intellect. Players can now take pride in creating some of their very own original puzzles that can be shared with the world along with scores and achievements.
In Crazy Machines GoldenGears' Level Editor, players can:
Choose from more than 60/parts items to build their creation
Use the same tools Viva's level designers use to create Challenge levels
Master the versatility of Crazy Machines' Level Editor
Build "real" puzzles or "self-solve" chain reactions
Share puzzles across various platforms with cross platform play
Earn Golden Gears for building and uploading, which can be redeemed to unlock more Challenge Levels
Filter through community puzzles by date, rating, popularity or alphabetical in an endless amount of content from a growing community!
Download Crazy Machines GoldenGears for your iOS, Android, or Amazon device today or try to LITE version of the app for free!
About Viva Media
Viva Media, founded in 1999, is dedicated to publishing, producing and developing high quality games on a variety of platforms including PC, Android, iOS, and other mobile devices. The New York based company focuses on delivering quality and is dedicated to publishing a wide array of interactive content of the highest standards on a variety of platforms. The company's collection of over 150 games boasts more than 100 awards for excellence in interactive publishing.
---
Media Contact
Rahat Rashid, TriplePoint for Viva Media
rrashid@triplepointpr.com
(212) 730-9744