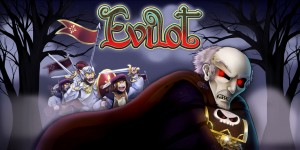 Tower Defense Meets Match-three in Chilean Startup Syrenaica's First Mobile Game
SANTIAGO – MAY 15, 2013 – Chilean game developer Syrenaica today announced the launch of its first title, a game called Evilot. Combining the best elements of two popular genres, Evilot is a puzzle defense game where players command the forces of Count Dolfus, a retired evil mastermind whose brooding Golden Years are being disturbed by an army of do-gooders bent on conquering his castle (and stealing all his loot). Funded partially through Kickstarter, the title's orchestral score sets a mood suitable for a Transylvanian invasion. A free demo version is available in the App Store along with the full version for $0.99.
Sink your teeth into puzzle defense, download Evilot now! (Free version) (Full version)
Accessible to even casual players, Evilot's 50 levels are set up on a grid with the forces of Dolfus defending against baddies (err… goodies?), who race down lanes toward mountains of hard-earned treasure. Gameplay goes beyond the traditional "set it and forget it" tower defense mechanic, adding a puzzle-based unit upgrade system. Place three of the same units together in a column or row and they combine to create a more powerful, leveled-up unit. Keep units tightly packed for more powerful upgrades, or spread them out for a weaker, but wider defensive spread. It's a compelling twist on tower defense that is easy to play, yet difficult to master.
Evilot features:
Unique puzzle defense mechanics and level-up system
Challenging, fast-paced gameplay
50 levels across 5 diverse territories
15 playable defender units and 5 special summons
Original orchestral soundtrack specially composed for Evilot
Stay tuned for Android, PC, Mac, Ouya and Linux versions of Evilot, planned for the coming months!
Visit http://www.syrenaica.com/ and http://www.evilot.com/ to learn more, then follow Syrenaica on Facebook and Twitter for the latest on Evilot.
Assets
Check out the trailer on YouTube and find game assets in the press kit. Also, check out this sweet video of the orchestral performance of Evilot's original soundtrack!
About Syrenaica
Syrenaica is an independent global interactive entertainment software company founded and located in Santiago, Chile. Their mission is to create groundbreaking games through a culture of joy. Syrenaica develops and publishes interactive software globally for several platforms with emphasis on mobile & social networks.
---
Media Contact
Zach Fuller, TriplePoint
zfuller@triplepointpr.com
(646) 462-3166