Seriously, you guys. It's the same Kingdom Rush Awesomeness… but MOAR!
MONTEVIDEO, Uruguay – May 28, 2013 – Ironhide Game Studio, the conniving, time-sucking, and altogether devious developer behind the rather excellent Kingdom Rush, furthered its plans for world domination today by announcing Kingdom Rush: Frontiers, launching June 6 on iPhone, iPad, and iPod touch. A brand-new adventure set in the same lovable world of knights and goblins, Kingdom Rush: Frontiers is primed to make another assault on your free time. The sequel expands on the fast-paced tower defense gameplay and intoxicating charm that took the world by storm in the original Kingdom Rush. Cancel your plans… reinforce!!
Prep for battle with the teaser trailer, viewable here: http://www.youtube.com/watch?v=ilshnhXtfKQ&feature=youtu.be
A pinnacle of the tower-defense genre with numerous updates and millions of fans, Kingdom Rush: Frontiers is the game's official sequel. It's armed to the teeth with all the features that made the original an award-winning hit, while adding dozens of new levels, towers, heroes, enemies, and, lest we forget, stylish ways to smash those enemies into bloody bits.
Just like an upgraded artillery tower, Kingdom Rush: Frontiers is (Scottish accent) "FULLY LOADED!" with the following features:
Eight New Special Towers — Complement the classic towers with assassins, necromancers, and even earthquake machines… shake things up, literally.
Exotic New Levels — Batten down the hatches and defend over a dozen levels like dangerous deserts, underground caves, and lush jungles. Oh, and by "lush," we mean "full of man-eating plants." Feed me, Seymour.
A Whole New Horde — Bomb, snipe and cut down more than 40 enemies, from giant scorpions to angry gorillas. No need to worry about regular-sized scorpions and slumbering chimps, mind you.
A Heap of Heroes — Bring down the hammer with nine new heroes like Cronan the Beastmaster and Sha'Tra the Alien Predator, all with fully customizable upgrades.
Bells and Whistles… and Giant Sandworms — You like Easter eggs? We got 'em. 70 achievements, unlockable weapons, and even a Black Dragon that will set your enemies on fire — all that and plenty more.
Critical praise for Kingdom Rush: IGN Editor's Choice, Slide To Play Must Have, 148 Apps Editor's Choice, Jay is Games Game of the Year, Pocket Gamer Gold Award, Touch Arcade 4.5/5, CNET Best iPad Games
Look for Kingdom Rush: Frontiers on iPhone and iPod touch along with Kingdom Rush: Frontiers HD for iPad, hitting the App Store on June 6.
---
Assets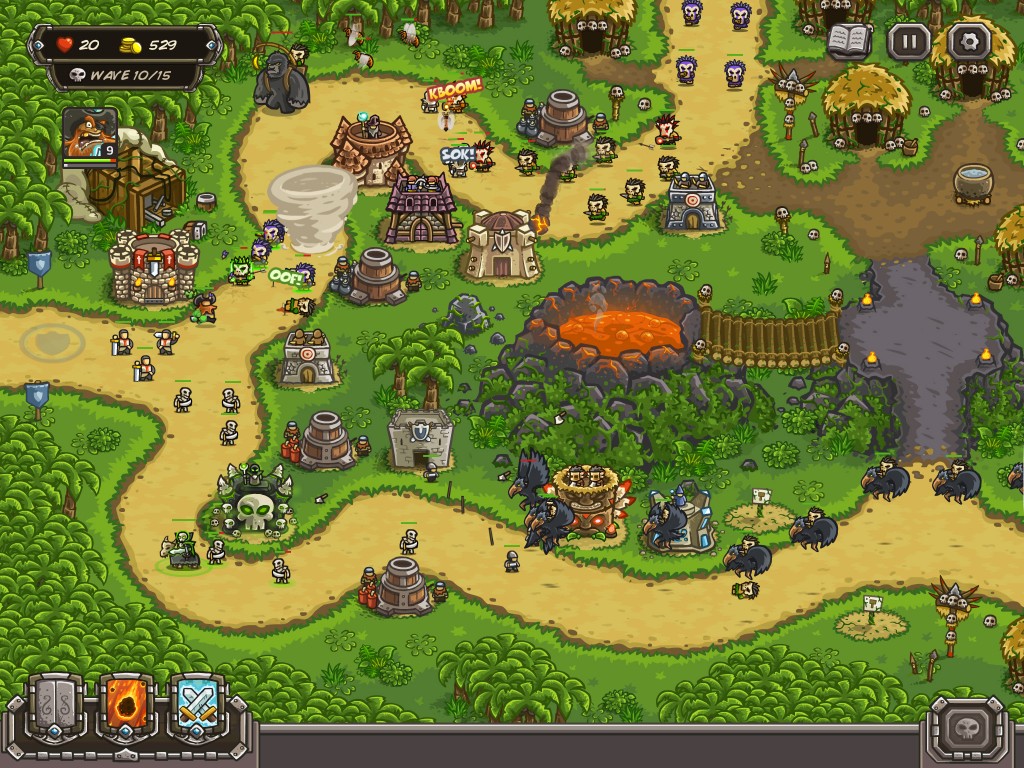 Download a full press kit here or view the trailer here.
About Ironhide Game Studio
Ironhide Games is a startup developer of casual indie games founded in January 2010, by Alvaro Azofra, Pablo Realini & Gonzalo Sande. Their goal is to produce high quality, well-designed, highly entertaining casual games and have fun doing so. Ironhide has released three titles so far, including Clash of the Olympians, Soccer Challenge: World Cup and Kingdom Rush.
Learn more at http://www.ironhidegames.com/
Official Website | Facebook | @ironhidegames
Media Contact
Nate Adams, TriplePoint
nadams@triplepointpr.com
(415) 955-8500