Leading mobile game developer romances Android audience with fan favorite, Wedding Dash
SAN FRANCISCO – July 25, 2013 – PlayFirst® Inc., the leading mobile game developer for families and friends, today announced the debut of Wedding Dash®, the company's latest release on Google Play™. Continuing PlayFirst's multiplatform expansion, Wedding Dash® is the latest DASH® franchise hit to make its way onto Android™. Diner Dash® and Cooking Dash® both launched on Google Play earlier this season and each achieved a top 10 spot in the Top New Free apps category. Boasting millions of downloads to date on iOS and Kindle Fire, Wedding Dash for Android is sure to join the procession of hits for PlayFirst and add to its more than 11 million monthly mobile users. 
"Google Play users have showed us their affection for DASH games in just a few short months, and we know they will adore Wedding Dash as well," said Marco DeMiroz, president and CEO, PlayFirst. "We're committed to entertaining mobile gamers around the globe, and PlayFirst welcomes the opportunity to reach more fans through Google Play."
Mobile gamers will fall in love with Quinn, an aspiring wedding planner who takes center stage in Wedding Dash. Players help her navigate the planning process, from producing sophisticated soirées to casual ceremonies, tapping and sliding to create order out of event-planning chaos. As Quinn, players must cater to each couple's unique and often ridiculous requests, seat guests next to their friends or risk complaints, and prevent unwanted yet comical disasters like kitchen fires, animal invaders and bustling bees with solid time-management skills and quick reactions. Wedding Dash delivers all the joy that comes from putting on that perfect wedding with loads of levels, venues and characters to discover.
Wedding Dash is now available on Google Play, and players can download the game today by visiting https://play.google.com/store/apps/details?id=com.playfirst.playground.weddingdash&hl=en.
Assets
To check out assets for Wedding Dash, download the press kit here.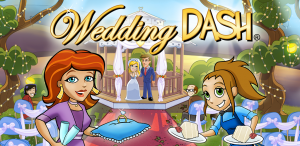 About PlayFirst
At PlayFirst, we believe you can have fun anywhere, any time and at any age. That's why we're committed to creating mobile games for everyone to enjoy, including the fan-favorite DASH® series of games like Diner Dash Rush®, Cooking Dash® and SpongeBob Diner Dash®. Whether you're in line at the store, on your lunch break or lounging at home, you only need a minute to dive into a PlayFirst game—but you'll find a lifetime of entertainment. PlayFirst games are played by tens of millions of fans worldwide, and we're just getting started. To find out more about our talented team and our awesome games, please visit www.playfirst.com.
Official Website | Facebook | @PlayFirst
Android and Google Play are trademarks of Google Inc.
DASH, Diner Dash, Cooking Dash, Diner Dash Rush and SpongeBob Diner Dash are registered trademarks of PlayFirst.
---
Media Contact
TriplePoint for PlayFirst
playfirst@triplepointpr.com
(415) 955-8500
Kristina Cheng
kcheng@playfirst.com
415-806-5009