Get Your Dose of Cathartic Pygmy Death Dealing Now!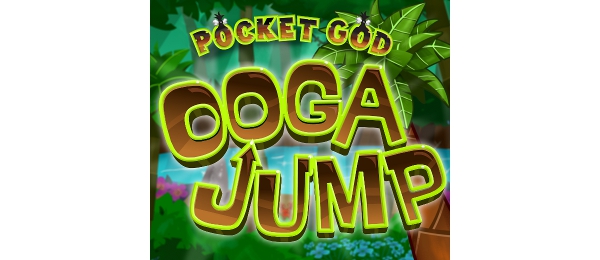 SAN FRANCISCO – Oct. 31, 2013 – Have you heard the story about the Pygmy that could fly? Nope, you haven't, because they all come crashing down eventually. Bolt Creative, creators of the beloved Pocket God franchise, have returned to the App Store today with Pocket God: Ooga Jump. An endless jumping game with a few morbid twists, Ooga Jump is available now for $0.99: https://itunes.apple.com/us/app/pocket-god-ooga-jump/id593188636?ls=1&mt=8.
Players of Ooga Jump will navigate their Pygmy higher and higher, bouncing on platforms, collecting gems, and avoiding gruesome fates via tilt and tap controls. But this isn't just another endless jumper, oh no, this is jumping in classic Pocket God fashion. Your cute little Pygmy will be disintegrated by fire ants, burned to ash by raining meteors, trapped in force fields by cold, unflinching robots, and more.
The Pygmies have a bit of an edge though, in the form of a Slam Bounce ability that smashes obstacles and propels them higher. Players will use this mechanic to speed up and away from enemies (like monkeys who want to peel their face off – you know, the usual), reach hard to reach platforms, and more.
We all know that Pygmies crave gems, and collect them you will as you climb higher and higher on your search for the shiny and precious stones. Use them to save your little guy or gal from their death, unlock new characters or skins, and get past pesky objectives.
Fans of the Pocket God universe will be right at home in Ooga Jump, with full Game Center support, leaderboards, objectives, and a slew of in-game skins and power ups available. Are you the God that sends his Pygmies flying highest, or just another wannabe deity toying with the fates of an innocent and tiny tribe?
Pocket God: Ooga Jump is available now on the iTunes App Store at https://itunes.apple.com/us/app/pocket-god-ooga-jump/id593188636?ls=1&mt=8.
For more information please visit www.boltcreative.com.
A press kit with Pocket God: Ooga Jump assets can be downloaded at http://www.triplepointpr.com/dl/PocketGod/PGOogaJumpPressKit.rar.
About Bolt Creative
Bolt Creative is a San Francisco-based developer and publisher of original games, including the hit iOS phenomenon Pocket God, ranked by Apple as the #9 Top Paid App of All Time. Since its 2009 launch, Pocket God has mushroomed into a full franchise with the original game hitting multiple online and mobile platforms, Pocket God: Journey to Uranus bringing players and pygmies into outer space, and Pocket God: Ooga Jump hitting iOS in the fall of 2013. The digital Pocket God Comics series has become one of the most successful digital comic series available and continuously outperforms megabrands. Fans can also purchase Pocket God merchandise such as figurines, apparel, and plush. Bolt Creative's goal is to develop games that crack them up and entertain players for countless hours. For more information, please visit www.boltcreative.com.
Media Contact:
Andrew Karl, TriplePoint for Bolt Creative
akarl@triplepointpr.com
(203) 314-6255