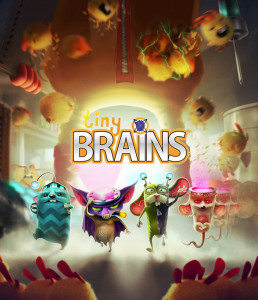 Spearhead Games and 505 Games Unleash Their Anticipated Next-Gen Downloadable Indie Title, Coming to PC and PlayStation®3 This Winter
WOODLAND HILLS, Calif. — Dec. 3, 2013 — 505 Games, a global publisher of video games, today announced that Spearhead Games' highly-anticipated co-op indie puzzler Tiny Brains is now available for download in North America on the PlayStation® Network for PlayStation®4 computer entertainment system for $19.99. The game will soon be available for PlayStation®4 system in European territories and on Steam for Windows PC and PlayStation®3 computer entertainment system for all territories this winter.
Tiny Brains is the brainchild of Spearhead Games, an independent studio of AAA veterans based out of Montreal. A next generation party game, Tiny Brains redefines "co-op" by challenging players to work together as one as one of four tiny (but super-powered!) lab animals. Thrown into a gauntlet of physics puzzles, the four "Tiny Brains" must combine their unique abilities to make it through a mad scientist's trick-ridden maze. Featuring a story mode, dozens of time-based and endless challenges, and a few surprises like the competitive "Tiny Soccer" mode, Tiny Brains is the most superhero fun you can have on a miniature scale.
Designed with local co-op as a gold standard, Tiny Brains also features online multiplayer and drop-in/drop-out play for groups tinier than four. Players can swap in between characters to utilize their different powers and levels change dynamically based on how many people are playing. Unique to the PlayStation®4 system, Tiny Brains makes use of the DualShock 4 light bar so that each controller shines the same color as the player's character. Using the touch pad, players can also bring down a colored arrow to indicate where they require a furry friend's help.
Tiny Brains will be 10 percent off for PlayStation® Plus members through December and free for the PlayStation®3 system when you buy the PlayStation®4 system version through a cross-buy promotion. PC gamers can preorder Tiny Brains on Steam for 30 percent off before December 18 here: http://store.steampowered.com/app/253690/
Tiny Brains launch assets can be found at bit.ly/TinyBrainsReviewKit. The game has been rated Everyone 10+ (E10+) by the ESRB.
About 505 Games
505 Games is a global video game publisher focused on offering a broad selection of titles for players of all ages and levels.  The company publishes games on leading console and handheld platforms as well as for mobile devices and social networks.  Product highlights include PAYDAY 2, Brothers – A Tale of Two Sons, Sniper Elite V2, Terraria, How to Survive, the newly launched Tiny Brains and the upcoming Rekoil.
505 Games has offices in Los Angeles, Milton Keynes, UK, Lyon, Munich, Milan and Madrid and a network of distribution partners within the Nordic territories and Australia.  For more information on 505 Games and its products please visit www.505games.com.
About Spearhead Games
Spearhead Games is a Montreal-based independent game studio founded by former AAA developers. Co-founders Simon Darveau, design director on Assassin's Creed® III, Malik Boukhira, game designer on Assassin's Creed 2 and Dead Space™ 3, and Atul Mehra, development director on the Army of TWO™ franchise, established Spearhead to create an innovative, fast-paced game development environment. The studio's first title, cooperative action puzzler Tiny Brains, is coming to consoles and PC holiday 2013. Follow Spearhead Games on Twitter and Facebook.
Official Website | Twitter | Facebook
Assets
Download the review assets here.
View the game page here.
View the trailer on YouTube here.
Download the high resolution trailer here.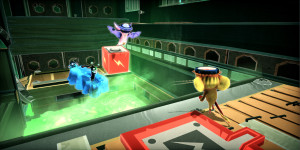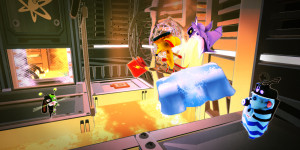 Media Contacts
TriplePoint for Spearhead Games
spearheadgames@triplepointpr.com
212-730-9744

Lisa Fields, 505 Games
Public Relations Director, North America
lfields@505games.com
818-540-3013