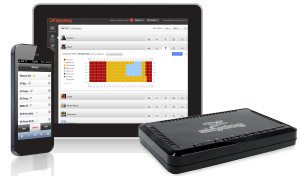 New Offerings A Response to Consumer Requests Following Successful October Launch
PALO ALTO, Calif. – December 5, 2013 –   PowerCloud Systems, a pioneer in cloud networking for the connected home, today announced that the company has made Skydog, its breakthrough approach to managing home Internet use, available to community groups, such as schools, clubs and religious institutions through a special volume pricing program.  It also announced new user features, including demonstration videos within the portal, and richer content programming on its user forum.  Skydog is a combination smart Wi-Fi router and  Web application that gives families coping with an overload of devices and Internet applications unprecedented visibility into, and management over, their home network. Skydog was commercially launched in late October 2013, following a successful Kickstarter campaign earlier in the year.  Community volume pricing, plus these new user features are the most recent examples of PowerCloud listening and responding to its enthusiastic consumers to further enhance their Skydog experience.
"Skydog is the only home networking solution that empowers parents to help their kids make smart choices about their connected lives," said Jeff Abramowitz, founder and CEO of PowerCloud Systems. "Our consumers are passionate about Skydog, and we are excited to help them share  their discovery within their communities. "
Skydog represents an entirely new way of managing the home network that is powerful, simple, and affordable. Through its location at the home's gateway to the Internet, and easy to use app, Skydog is able to provide Internet access management  that allows for a unique set of policies for each individual user across all of their devices.
Since its launch, Skydog has received accolades from tech reviewers and consumers. PC Magazine gave Skydog a rating of, "Excellent," and designated it an "Editors' Choice," calling it "the ultimate family-friendly router" – http://bit.ly/HXJETz.  Skydog users have made Skydog the highest-rated dual-band router on Amazon – http://amzn.to/HhYpkj.
Skydog has made three enhancements to the platform based on user feedback:
Volume Pricing for Community Groups
Immediately following the Skydog launch, the company began receiving requests from users around the world looking to make quantity purchases on behalf of their community-based organizations. These groups can now order Skydog in packages of 10, 30, and 100 units, with increasing discounts and levels of support at each level.
Embedded Contextual Videos
Based on user feedback, PowerCloud Systems has created a series of "How To" videos, which are now featured within the Skydog user portal.  These videos range from easy set-up and usage instructions for the non-technical users, to tips on how to get the most value out of advanced Skydog features.
Community Forum Enhancements
Skydog has streamlined and reorganized its community forums, making it easier for users to ask questions, share best practices, and discuss strategies for better managing home Internet use with other parents.  In 2014, Skydog will also be making industry experts on important issues like parental control and personal security available to Skydog users as part of the forum, to foster a richer dialogue within the Skydog community.
In addition, Skydog is now making it easier for people to better see and understand precisely how the Skydog solution works. Visitors to the Skydog website can get the full customer experience by logging into a live, working version of the Skydog solution. Simply visit www.Skydog.com and click on "See the Skydog Live Demo."
Pricing and Availability
Individual Skydog purchases can be made through www.Skydog.com and at Amazon.com for $149.00. This price includes one year of subscription cloud service.  For a limited time, Skydog is offering two additional years of Skydog subscription service free with every purchase.  Information on community group sales can be found at http://skydog.com/groups.php.
To keep up to date with the latest Skydog news, please follow us on Twitter and Facebook.
About PowerCloud Systems
PowerCloud® Systems is a leader and industry pioneer for cloud-powered wireless networking. The company's patented and award-winning CloudCommand™ technology was invented at the Palo Alto Research Center (PARC) and makes deploying and monitoring Wi-Fi networks and services easy for businesses with mobile customers. The CloudCommand platform is deployed worldwide in hotels, schools, retail chains, managed care facilities and other businesses seeking truly affordable, enterprise-grade Wi-Fi. Investors include PARC, Qualcomm Ventures, Javelin Venture Partners and Walden Venture Capital.
More information can be found at www.powercloudsystems.com.
Media Contact
Andrew Karl, TriplePoint PR for PowerCloud Systems
akarl@triplepointpr.com
415-955-8500