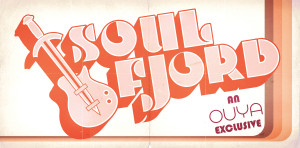 Kim Swift and Airtight Games Release New Developer Diary with Composer Austin Wintory
SANTA MONICA, Calif. – January 14, 2014 – OUYA and Airtight Games today announced that Soul Fjord will launch exclusively on OUYA Thursday, January 28. Soul Fjord is a rhythm-based roguelike game created by Portal lead designer Kim Swift and puts players into the dance shoes of funk Viking Magnus Jones as he attempts to save the world from Ragnarok. The game will launch on OUYA for free with in-game purchases.
Airtight Games also released a new developer diary focused on composer Austin Wintory's work in creating the music for Soul Fjord. Wintory is the award-winning composer behind the music of hit indie games Journey, Monaco, The Banner Saga, and more. Check out the video for more information on how he blended funk music with the Viking tradition: http://youtu.be/iY6kmVCRfT8.
A press kit with images, logos, and more can be downloaded here. The dev diary video file can also be downloaded here.
Any media interested in learning more about Soul Fjord or reviewing the game at launch are encouraged to contact TriplePoint PR at ouya@triplepointpr.com or 415.955.8500.
Follow OUYA and Soul Fjord on the web and social media!
www.ouya.tv
www.soulfjord.com
@playouya
@soulfjord
https://www.facebook.com/OUYA
https://www.facebook.com/AirtightGames
About OUYA
OUYA is a new kind of game console for the television that brings together an open development experience—where any creator can publish a game to the living room—with an accessible and affordable console at $99, with all games free to try. OUYA supports both the downloading and streaming of entertainment content in 1080p HD quality. Built on an open OS with a custom interface and store, OUYA focuses on the fun factor of games—games are organized by featured playlists and overall player engagement and not by revenue or downloads—enabling the most fun game experiences to shine. OUYA was envisioned by founder and CEO Julie Uhrman, and beautifully designed by award-winning designer Yves Behar.
About Airtight Games
Airtight Games is an independent video game developer founded in 2004 and located in Redmond, Washington. A group of creative and hardworking game designers, artists, programmers, and support staff, the company is passionate about creating strong, original intellectual properties with unique mechanics, gorgeous visuals, and entertaining hooks. Airtight Games' first original IP, Dark Void, was released on PC and console platforms in 2010, followed by Quantum Conundrum in 2012. The company's next game, Soul Fjord, is an OUYA exclusive rhythm roguelike set for release on January 28, 2014. For more information, please visit www.AirtightGames.com.
###
Media Contact:
Andrew Karl
TriplePoint PR for OUYA
415.955.8500
akarl@triplepointpr.com