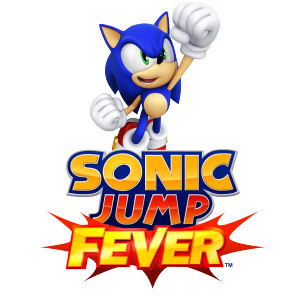 Sonic's Most Competitive and Quick-to-Play Mobile Game Releases this Summer
SAN FRANCISCO – June 10, 2014 – SEGA Networks, Inc. officially announced Sonic Jump Fever today, a brand new title coming this summer to iPhone, iPad, iPod touch and Android devices as a free download. Based on the critically acclaimed Sonic Jump released on feature phones in 2005 and adapted for smartphones in 2012, Sonic Jump Fever takes the game to new heights. This time, it's all about setting high scores and competing with friends.
In Sonic Jump Fever, players compete for high scores in fast vertical-jumping challenges. Playing as Sonic, Knuckles, and a host of classic characters, friends blast each others' scores by quickly deploying boosters, upgrades, and unique character abilities to pull off huge combos. Earn points quickly and unleash Fever Mode which puts the player into hyper-speed for Earth-shattering scores.
At the beginning of every round, scores are displayed on a leaderboard so friends can immediately see who is doing the best and climbing the ranks. But don't get too comfortable at the top: twice a week the leaderboards are reset and competition moves to the next Sonic zone. The race for the top is never-ending!
Developed by Hardlight Studios, SEGA Networks internal mobile studio, Sonic Jump Fever brings players together in the fastest Sonic competition ever. Get ready. JUMP!
For supporting assets and information, jump here: http://triplepointpr.com/dl/SEGA/SJF/SJFScreens.zip
Watch the Trailer: http://bit.ly/SonicJumpFeverTrailer
For the latest SEGA announcements follow us on Facebook and Twitter
About SEGA Networks Inc:
SEGA® Networks Inc. is a division of Tokyo, Japan-based SEGA® Corporation, focused on creating compelling entertainment for mobile and tablet devices. Since releasing Super Monkey Ball as the first number one game on the App Store in 2008, SEGA has been at the forefront of mobile gaming with over 85 games and over multiple hits with over a million downloads each. SEGA Networks Inc. publishes games featuring iconic SEGA IP as well as original content. The company is dedicated to offering stellar player experiences across all genres that are delivered with quality support and community. SEGA Networks Inc. includes acclaimed studios Three Rings and Hardlight Studios. Recent SEGA Networks Inc. titles include the hit Sonic Dash, Super Monkey Ball Bounce and the upcoming Crazy Taxi: City Rush. For more information, visit www.sega.com.
About SEGA® Europe Ltd.
SEGA® Europe Ltd. is the European Distribution arm of Tokyo, Japan-based SEGA® Corporation, and a worldwide leader in interactive entertainment both inside and outside the home. The company develops and distributes interactive entertainment software products for a variety of hardware platforms including PC, wireless devices, and those manufactured by Nintendo, Microsoft and Sony Computer Entertainment Europe. SEGA's global Web site is located at www.sega.com.
©SEGA. All rights reserved. SEGA is registered in the US Patent and Trademark Office. SEGA and the SEGA logo are either registered trademarks or trademarks of SEGA Corporation. iPad, iPhone, iPod touch are a trademarks of Apple Inc., registered in the U.S. and other countries. App Store is a service mark of Apple Inc.
# # #
Media Contact:
Rich Jones
TriplePoint PR for SEGA Networks
rjones@triplepointpr.com
(212) 730-9744
Jasmine Mayo (Ramos)
Communications Manager, SEGA Networks
Jasmine.mayo@sega.net