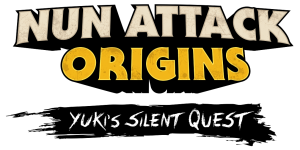 Following a Successful Android Launch, Frima's Prequel to Acclaimed Mobile series "Nun Attack" is Now Available on the iTunes App Store
QUEBEC CITY – June 19, 2014 – Frima today announced that Nun Attack Origins: Yuki's Silent Quest, the action-packed puzzler that teaches players the feared discipline of Nun-jutsu, is now available on the iTunes App Store. Previously published on Android, Yuki's Silent Quest is now playable on all mobile devices! You can download the game today for $1.99 via iTunes.
The game lets players step into the pointy black shoes of Sister Yuki, wickedly-quick Mistress of Stealth, before she joined the Sisterhood of evil-trouncing nuns from Frima's original title, Nun Attack. In this adventure, an ancient portal has unleashed a sinister legion of ferocious fish-people upon Yuki's peaceful village. These Deep Ones raze her town to the ground and kidnap its inhabitants; only the pious and powerful Sister Yuki has the ninja skills to stop them!
Unlike previous Nun Attack titles, Yuki's Silent Quest is a stealth puzzler – players will have to muster all their wits to strike at the army of evil-doers from the shadows and rescue the kidnapped orphans.  With lightning reflexes fueled by Yuki's righteous cause, players will slide, slice, and dice through 90 unique levels, rescue over 200 little ones, and rebuild her peaceful village.
Nun-jutsu zealots can download Nun Attack Origins: Yuki's Silent Quest today on the App Store or Google Play for only $1.99.
For more info, visit the Nun Attack Facebook page, download the press kit here, or watch the trailer here.
About Frima
Frima is Canada's largest independently-owned game developer. Since 2003, the company has been developing world-class digital products including virtual worlds, social and web-based games, console titles and mobile apps. Frima's services include videogame development, animation and visual effects as well as the concept art development of Volta. In addition to working with world-renowned clients such as Electronic Arts, Activision, Warner Brothers, Konami and Ubisoft, Frima develops successful, original titles such as Nun Attack, Zombie Tycoon, A Space Shooter and CosmoCamp. With over 350 artists and programmers in-house, Frima produces high-caliber products that are as remarkably outstanding artistically as they are technically.
Media Contact
Eliana Carmona
TriplePoint for Frima Studio
ecarmona@triplepointpr.com
Assets
Download the press kit here.
Check out the trailer here.