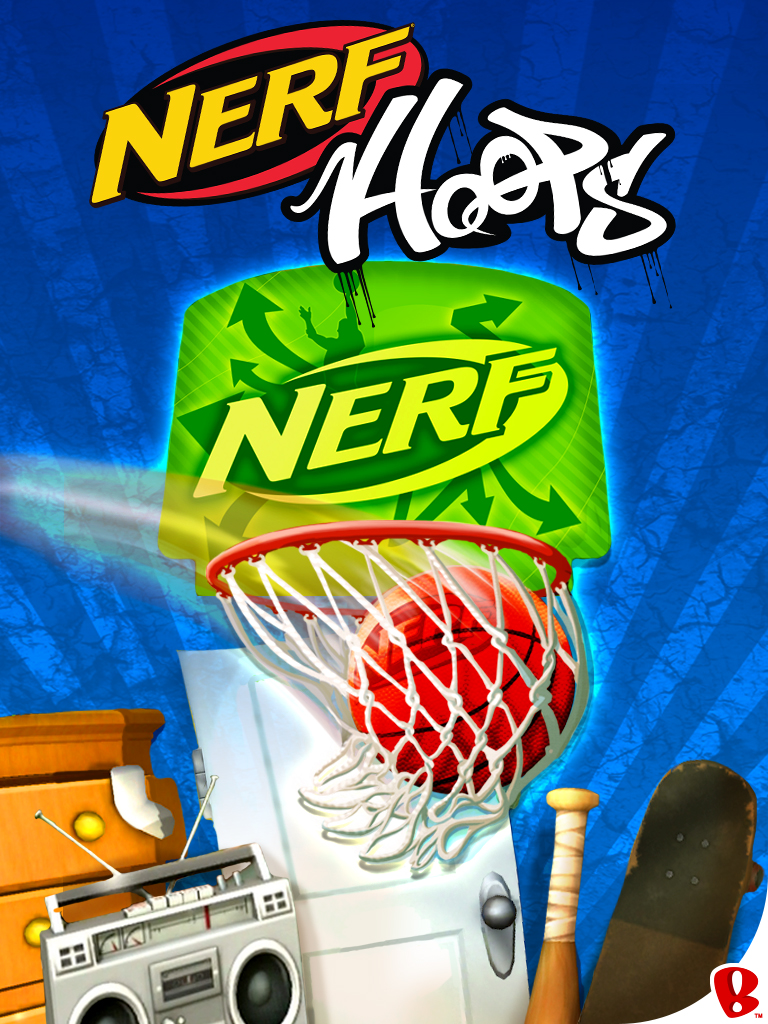 Sink shots and score bragging rights in free flick-and-shoot mobile basketball game
Boulder, CO – September 4, 2014 – Backflip Studios today announced that NERF® Hoops, a new flick basketball game, is available now as a free download in the iTunes App Store. Use precision swipe-to-toss mechanics to score baskets on a classic basketball court, over city streets, in the dorm room, and even on a zombie apocalypse-inspired level. Hoops is free on the iTunes App Store.
Download NERF Hoops today: https://itunes.apple.com/us/app/nerf-hoops/id888502720?mt=8
Check out the NERF Hoops trailer: https://www.youtube.com/watch?v=wC-5yRT2M5w
From the creative team that brought you the breakaway hit Paper Toss, NERF Hoops has players using precise swipes to score points. Avoid irksome hazards like strong gusts of wind, moving cars, ravenous zombies, and much more. Hoops is a social game where players can challenge their friends in head-to-head matchups as well as compete with players around the world in the leaderboards. NERF Hoops is a satisfying, laidback way to pass the time while waiting in line for a sandwich, during a boring bus ride, or while otherwise killing time.
NERF Hoops is available now, free on the iTunes App Store.
Assets
Check out the NERF Hoops press kit.
View the trailer.
About Backflip Studios
Backflip Studios develops and publishes absurdly fun mobile games for iOS and Android devices. The company's portfolio of top ranked games, which include hit franchises such as DragonVale, Paper Toss, NinJump, PlunderNauts, Dwarven Den and Army of Darkness Defense, have been downloaded over 300 million times and are played by more than 30 million active users per month. DragonVale was the #1 Top Grossing iPad app and the #4 Top Grossing iPhone app of 2012. The company is based in Boulder, Colorado. Hasbro, Inc. (NASDAQ:HAS) has a majority ownership stake in Backflip Studios.
About Hasbro, Inc.
Hasbro, Inc. (NASDAQ: HAS) is a branded play company dedicated to fulfilling the fundamental need for play for children and families through the creative expression of the Company's world class brand portfolio, including TRANSFORMERS, MONOPOLY, PLAY-DOH, MY LITTLE PONY, MAGIC: THE GATHERING, NERF and LITTLEST PET SHOP. From toys and games, to television programming, motion pictures, digital gaming and a comprehensive licensing program, Hasbro strives to delight its global customers with innovative play and entertainment experiences, in a variety of forms and formats, anytime and anywhere. The Company's Hasbro Studios develops and produces television programming for more than 180 territories around the world, and for the U.S. on Hub Network, part of a multi-platform joint venture between Hasbro and Discovery Communications (NASDAQ: DISCA, DISCB, DISCK). Through the company's deep commitment to corporate social responsibility, including philanthropy, Hasbro is helping to build a safe and sustainable world for future generations and to positively impact the lives of millions of children and families every year. It has been recognized for its efforts by being named one of the "World's Most Ethical Companies" and is ranked as one of Corporate Responsibility Magazine's "100 Best Corporate Citizens." Learn more at www.hasbro.com.
Media Contact
Lucas Cartwright, TriplePoint for Backflip Studios
lcartwright@triplepointpr.com
(212) 730-9744
Nicole Agnello, Hasbro, Inc
Nicole.Agnello@hasbro.com
(401) 727-5947