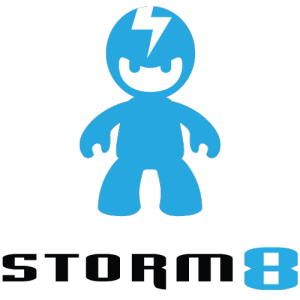 Tim LeTourneau and Steve Parkis Join Leading Mobile Company's Leadership Team with Combined 30+ Years of Experience from Electronic Arts, Disney and Zynga
REDWOOD CITY, Calif., — October 8, 2014 — Mobile social gaming leader Storm8 today announced the addition of two leaders to its growing executive team.  Tim LeTourneau will serve as the company's Chief Creative Officer and Steve Parkis becomes President of Games and Network. Combined, LeTourneau and Parkis bring more than 30 years of game development and management experience to Storm8's leadership team. With the newly created roles, Storm8 is poised to further scale its 400 million strong mobile gaming network.
"Since our founding nearly six years ago, our goal has been to build the largest mobile games network by delivering the highest-quality mobile gaming experiences to players around the world," said Storm8 CEO and co-founder Perry Tam. "The expansion of our executive team underscores our commitment to this mission and further accelerating Storm8's trajectory. Tim and Steve's combined creative and operational leadership bring us the tandem skill set required to take Storm8 to our next stage of growth."
Storm8's diversified game portfolio has achieved tremendous success on both the iOS and Android platforms. To date, the company's games have been downloaded more than 600 million times. The addition of LeTourneau and Parkis will enable the completely self-funded company to continue its leadership in mobile games and explore new opportunities for growth.
"I love creating and launching games even after 20 years in the business," said LeTourneau. "Storm8 represents a great opportunity for me to join a leader in the mobile market with a differentiated network focus and diversified game portfolio. I am excited to leverage the Storm8 platform to build the best games that drive the largest mobile gaming network in the world."
"I share Storm8's spirit of fun and commitment towards making amazing gaming experiences across a broad network of users," said Parkis. "I look forward to working with a fast moving, mobile-first market leader and continuing to build on the cornerstones of Storm8's success: culture, team and technology."
LeTourneau began his game career with Electronic Arts and was there for nearly 20 years, with a majority of his time spent at the Maxis studio leading The Sims franchise. Parkis started his game career at The Walt Disney Company where he worked on online worlds and games spanning the Disney, Pixar and Club Penguin franchises. The two most recently held senior leadership roles at Zynga where they co-led the company's largest division that includes the web and mobile versions of its flagship franchise FarmVille.
LeTourneau and Parkis will report to Storm8 CEO and co-founder, Perry Tam. Both will be based in Storm8's Redwood City headquarters.
About Storm8
Founded in 2009, Storm8 is a pioneering leader in mobile social games. With more than 50 million monthly active users and more than 600 million total downloads to date, Storm8 is also home to three innovative brands TeamLava, Shark Party and FireMocha. Under these brands, Storm8 has amassed a network of more than 400 million devices worldwide and continues to create engaging mobile social games that span genres on iOS and Android – from social arcade hits such as Candy Blast Mania, Bubble Mania and Jewel Mania, to social casual games such as Dragon Story and Farm Story 2, to social casino games like Slots and Bingo!, to MMORPGs, including World War and iMobsters. Storm8 is headquartered in Redwood City, California. For more information, please visit www.storm8.com.
Trademarks
Storm8, TeamLava and the Storm8 network games are trademarks of Storm8 and/or its affiliates. Other names may be trademarks of their respective owners.
Media Contacts
Sylvie Tongco, Storm8, pr@storm8.com
TriplePoint PR for Storm8, storm8@triplepointpr.com