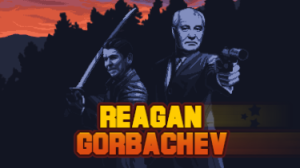 The Ultimate Odd Couple Gears Up for their Digital Debut in New Action Puzzler from Team2Bit
SANTA MONICA, Calif. – Oct. 15, 2014 – Team2Bit, the developer that brought you Fist Puncher, today announced that local co-op stealth game Reagan Gorbachev will be coming exclusively to OUYA on October 21.  Fans of local co-op and Cold War politics will be able to take up arms as the incorrigible patriot Ronald Reagan and the famously flexible Mikhail Gorbachev, in an epic struggle to prevent the Cold War from heating up.
Reagan Gorbachev is set in the 1980s in an alternate universe, in which Reagan and Gorbachev are kidnapped by militant extremists during the famous 1986 Reykjavik Summit. Of course, the enemy of your enemy is your friend, and these decidedly kick-ass new friends will need to fight as a team if they hope to escape with their lives.
In this top-down stealth game, players must arm themselves with a mélange of munitions – everything from poisoned darts to katanas to high-powered rifles – and sneak or slash their way through rooms riddled with radical extremists who want nothing more than to take their lives. Reagan Gorbachev can accommodate one or two players, and will be available for $9.99.
Get a glimpse of the gameplay in Team2Bit's trailer: http://www.youtube.com/watch?v=H4qL-xovtS0.
Or download the press kit here: http://www.team2bit.com/press/sheet.php?p=Reagan_Gorbachev.
About OUYA
OUYA is a new kind of game platform that enables any creator to publish a game for the TV. Launched with the OUYA game console in 2013, OUYA has hundreds of games from established AAA developers to emerging game artists. The OUYA also has plenty of entertainment content in 1080p HD quality. OUYA, built on an accessible and open platform, was envisioned by founder and CEO Julie Uhrman. The OUYA console was beautifully designed by award-winning designer Yves Behar.
Website | Facebook | @playOUYA
About Team2Bit
Team2Bit is an indie game studio comprised of two brothers located in Santa Cruz, California. They make pixelated, retro-styled games infused with humor and some modern twists. They're also graduating members of IGN's Indie Open House class of 2012. Check out the Team2Bit website for more information: http://www.team2bit.com/.