New NFL Players Will Join the Starting Lineup Throughout the Season, Beginning with Star Quarterbacks Colin Kaepernick and Russell Wilson
RALEIGH, N.C. and WASHINGTON D.C. – October 10, 2014 – Imangi Studios and NFL Players Inc. (NFLPI), the marketing and licensing arm of the NFL Players Association, today announced their partnership to bring some of the NFL's top players to Temple Run 2, one of the most popular mobile games in history.
The first two members of the exciting lineup — quarterbacks Colin Kaepernick and Russell Wilson — are now available for download within Temple Run 2 for a limited time only. New NFL players will be chosen weekly by Imangi and released through the Fall season.
"We are very mindful about choosing the right characters to join the Temple Run universe, and partnering with NFL Players Inc. was a natural fit to include more of the world's greatest athletes into the game," said Keith Shepherd, co-founder of Imangi Studios. "We had a great time choosing some favorites and think our fans will enjoy the run even more."
In Temple Run 2, the franchise which has been downloaded more than one billion times worldwide, gamers take on the role of an explorer who steals a coveted idol and runs as long as possible through varying landscapes, avoiding obstacles to earn points and escape a terrifying demon monkey. Each pro football player in Temple Run 2 is modeled after his real-life persona.
"Featuring NFL players as in-game characters in Temple Run 2 provides fans with a new way to experience their favorite players using their incredible skills off the field in a unique, fantastical setting," said Steve Scebelo, Vice President, Business Development and Licensing, NFLPI. "Players have embraced the opportunity to become an in-game character and are jockeying for position to be selected by Imangi as the next player to become part of the Temple Run universe."
Each featured NFL player will be available for purchase for a limited time only, but will remain in the game as runners if fans have downloaded them. Fans should check in weekly at www.facebook.com/templerun for the latest additions to the roster of runners, and to collect their favorite players.
Assets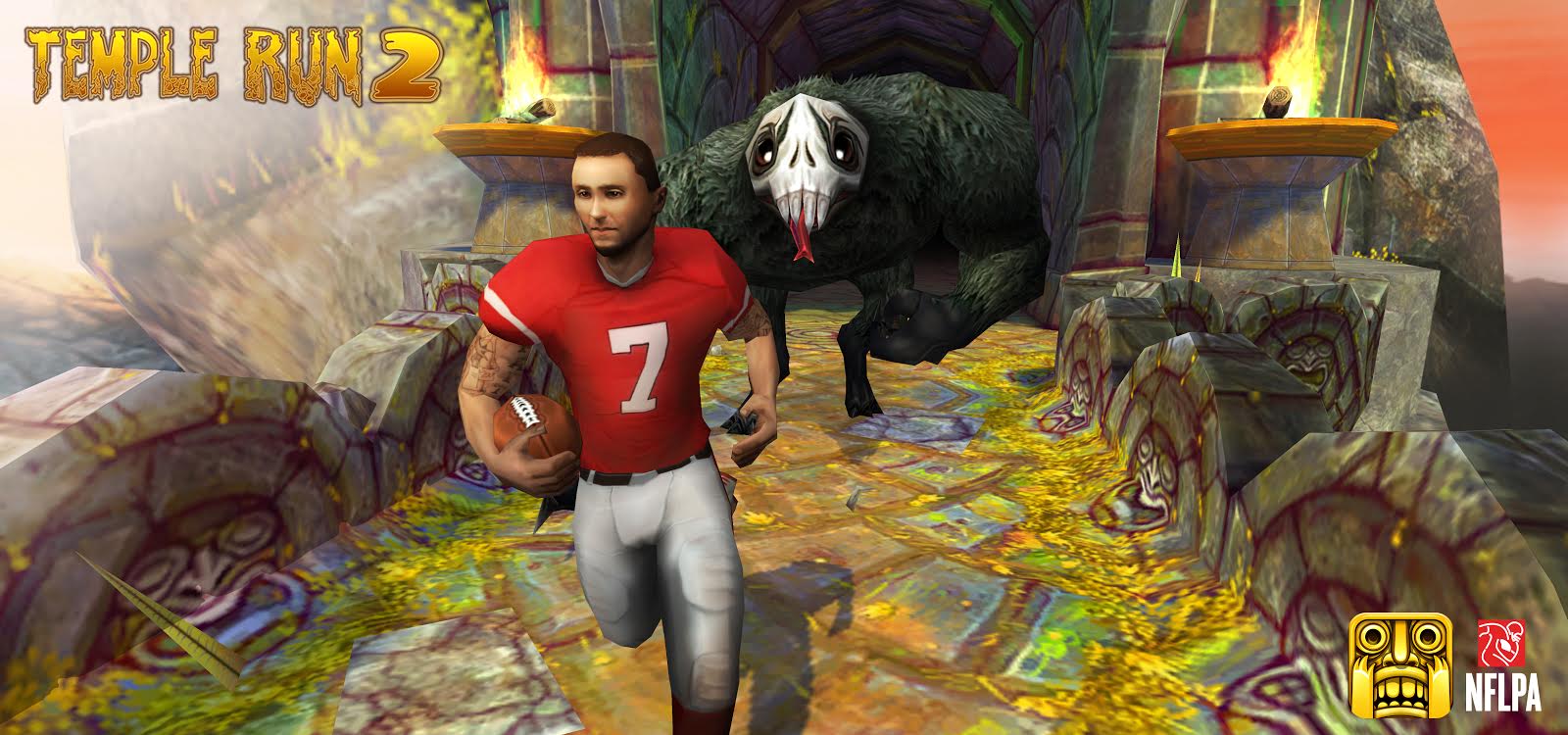 About Imangi Studios
Imangi Studios was founded in 2008 by husband-and-wife team Keith Shepherd and Natalia Luckyanova with the goal of creating small fun games for everyone to enjoy. What started as a dream job for the couple has evolved into a successful business, with Keith and Natalia now working with a team of other talented game creators. In June 2014, Imangi announced that its mega-hit Temple Run series had amassed over a billion downloads, defining it as one of the most popular mobile games in history. The Temple Run franchise has expanded to create Temple Run: Brave and Temple Run: Oz, as well as over 30 global licensees from apparel to publishing.
About NFL Players Inc.
NFL Players Inc. is the licensing and marketing subsidiary of the NFL Players Association. NFLPI has been a trusted resource since 1994, delivering access to the influence, power and personal stories of NFL players. NFLPI is a "one-stop shop" for businesses seeking licensing rights, access to players through hospitality and events, marketing strategy and player procurement. For more information, please visit www.nflpa.com/players.
Media Contacts
TriplePoint PR for Imangi Studios
imangi@triplepointpr.com
212-730-9744
David Cooper for NFL Players Inc.
dcooper@coynepr.com
917-716-8566
Mike Donnelly, NFLPA
Mike.Donnelly@nflplayers.com
202-756-9160