New Version of Widely-Popular Video Game Development Platform Offers Significant Support for 3D Development, Optimized for Samsung Devices
MENLO PARK, Calif. – January 30, 2015 – Chukong Technologies today announced the newest version of its flagship video game development platform, Cocos2d-x. Version 3.4 includes upgraded features and tools supporting 3D game development, simplifying the process for developers to build 2.5D and 3D casual and mid-core mobile games.
In addition, version 3.4 offers faster memory management and optimization for Samsung devices, further increasing the functionality of the world's most popular cross-platform open-source game engine.
Cocos2d-x is free and provides true cross-platform support that allows developers to publish games on multiple platforms from a single code base. Developers can see the new 3D tools in action in the Fantasy Warrior demo video here, find the full v3.4 release notes here, and download the latest software here.
Cocos2d-x Widespread Adoption
Cocos2d-x has been downloaded more than 1.5 million times in 204 countries and is used by some of the largest game developers around the world, including Big Fish, Wooga, Gamevil, and more. The engine is owned and maintained by Chukong Technologies, a mobile entertainment company building the next generation of mobile game platforms. To further support Cocos2d-x users, Chukong has partnered with leading app service providers to create Cocos Services, a one-stop shop for developers to seamlessly integrate industry leading monetization, distribution, and game analytics technology into their games.
For more information about the Cocos2d-x engine, please visit cocos2d-x.org.
---
About Chukong Technologies
Chukong Technologies is a leading mobile entertainment platform company that drives and maintains a healthy development ecosystem, provides users with excellent digital content, and pushes the digital entertainment experience forward. Chukong has helped some of the world's largest mobile developers navigate the complexities of the Chinese mobile market, as well as published many of the most popular mobile titles in China, such as the Fishing Joy franchise. Chukong Technologies aims to become a leading digital distribution company and is currently expanding its infrastructure and partnerships to facilitate new business opportunities. Headquartered in Beijing, China, the company also has operations in Tokyo, Seoul, Taipei, and Menlo Park, California. For more information, please visit www.chukong-inc.com and follow the company on Twitter at @CocoaChina.
Media Contact
TriplePoint for Chukong Technologies
chukong@triplepointpr.com
(415) 955-8500
Assets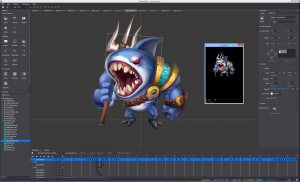 Download the press kit