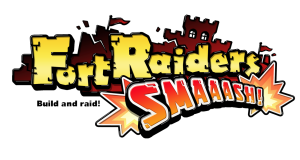 A combat strategy game that sends players on an adventure for untold riches as they search for the Temple in the Sky
TOKYO, Japan – February 12, 2015 – Acquire, the creators of the Way of The Samurai and Tenchu series, today released Fort Raiders SMAAASH! as a free download for iPhone, iPod touch, iPad, and Android smartphone and tablet devices. This 2D combat strategy game rendered in a refreshing Japanese art style lets players create customizable forts for their expanding forces as they embark on the ultimate quest for glory: unimaginable riches guarded in a legendary temple in the sky!
Begin your adventure by downloading for free on iOS and Android devices:
View the official trailer: http://youtu.be/W2fyRivcx5g
In Fort Raiders SMAAASH!, legend tells of a mysterious Temple in the Sky where vast riches are guarded by the fabled Dark Dragon of the Apocalypse. Train your armies and build up your fort to magnificent heights as you race to the top in search of treasure and glory, but remember to upgrade and defend your fort from raiders vying to snatch the treasure for themselves. Gather resources and train a team of warriors to reach the top first, and find out if the legends of treasure are true!
Fort Raiders SMAAASH! Key Features:
Build up your fort and fortify it with powerful facilities! Produce and store resources and hire warriors to protect your castle and carry out your dirty work.

Hire warriors and legendary Heroes to raid your opponents' forts for resources. When you smash up a fort you earn the resources that went into building it; use these resources to further fortify your own fort.

Raise the level of facilities in your fort to produce more resources, hire more warriors, and gain other benefits. Research warriors at the Academy to turn them into elite warriors with even cooler outfits. Oh yeah!

Discover a myriad of possibilities to build up your customized fortress, and engage in thrilling battles with dozens of different heroes taking the field.

Gameplay basics are easy to grasp, but deep enough to offer hundreds of ways to shape your own strategies.

Level up to become the Master Hero that every wandering warrior dreams to be!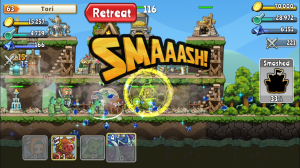 To learn more about Fort Raiders SMAAASH! and Acquire, please visit:
Assets
Download the press kit: https://app.box.com/s/ht3xgmmy5yqyq9drrif08z6rx9fs44nf
View the trailer: http://youtu.be/W2fyRivcx5g 
About Acquire
Acquire is a Tokyo-based game company known for delivering high-caliber stealth and action-adventure titles, including the Way of the Samurai and Tenchu series, Holy Invasion of Privacy, Badman!, Class of Heroes, Shinobido series and many others. Developing for console and handheld platforms, Acquire is committed to delivering excellence to each of its meticulously created titles. To learn more about Acquire and its upcoming titles, visit http://www.acquire.co.jp/eng/
Media Contact
Tom Price, TriplePoint for Acquire
tprice@triplepointpr.com
(415) 955-8500