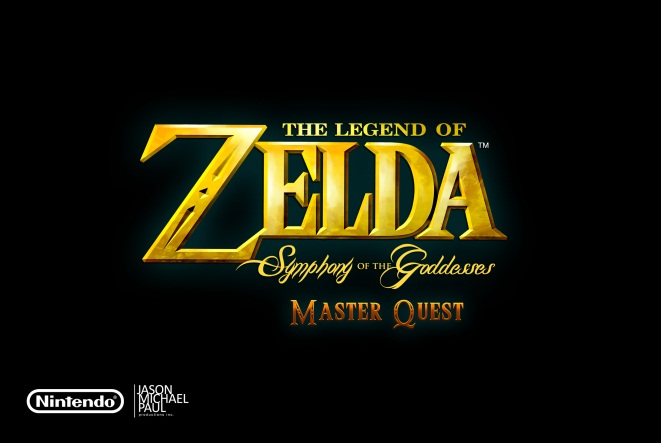 Due to Popular Demand, "Master Quest" Plays Dublin
DUBLIN, Ireland, June 9, 2015 — For the first time ever, Nintendo's The Legend of Zelda symphony concert series will come to Dublin with the latest tour "Master Quest." The show, celebrating the beloved franchise will continue its world tour on 22 November in Dublin at The Convention Centre. Dublin's finest musicians and singers will perform orchestral arrangements of music from the games of The Legend of Zelda universe, accompanied by video content from the games themselves. Master Quest will feature music and images from Nintendo's The Legend of Zelda's most recent game releases. For a full schedule listing and ticket links, please visit: www.zelda-symphony.com/schedule.
Tickets for the Dublin performance are now available directly at http://www.ticketmaster.ie/event/18004E87ABF53A95.
Nintendo has teamed up with Jason Michael Paul Productions, Inc. to provide video game fans with the ultimate musical experience for The Legend of Zelda. The highlight of this new musical program is a full four-movement symphony that will guide fans through a musical retelling of key chapters from The Legend of Zelda franchise. The multimedia show will pair iconic music and gorgeous visuals from classic Zelda titles, as well as the newest game in the series, The Legend of Zelda: A Link Between Worlds for the Nintendo 3DS.
"We realise that The Legend of Zelda fans are all over the world, and we want to bring this multimedia experience to them, too," said Simon Kemp, General Manager of Nintendo UK. "Game music, especially game music as iconic as Zelda, is wonderful because no matter what language or country, it's familiar for everyone to enjoy."
"Master Quest will surprise and delight The Legend of Zelda concert newcomers as well as faithful followers," said Jason Michael Paul- President Jason Michael Paul Productions, Inc. "It features the same quintessential images and songs best known from The Legend of Zelda franchise, but with the addition of never before seen or heard performances."
For more information about the concerts, visit http://www.zelda-symphony.com.
About Nintendo
The worldwide pioneer in the creation of interactive entertainment, Nintendo Co., Ltd., of Kyoto, Japan, manufactures and markets hardware and software for its Wii U™ and Wii™ home consoles, Nintendo 3DS™ and Nintendo DS™ family of portable systems. Since 1983, when it launched the Nintendo Entertainment System™, Nintendo has sold more than 4.3 billion video games and more than 680 million hardware units globally, including the current-generation Wii U, Wii, and Nintendo 3DS family of systems including New Nintendo 3DS™, New Nintendo 3DS XL™, Nintendo 3DS, Nintendo 3DS XL™, Nintendo 2DS™, as well as Nintendo DS™, Nintendo DSi™, Nintendo DSi XL™, Game Boy™, Game Boy Advance™, Super NES™, Nintendo 64™ and Nintendo GameCube™ systems. It has also created industry icons that have become well-known, household names such as Mario™, Donkey Kong™, Metroid™, Zelda™ and Pokémon™.  A wholly owned subsidiary, Nintendo of Europe, based in Germany, was established in 1990 and serves as headquarters for Nintendo's operations in Europe.
Media Contact
TriplePoint PR for Jason Michael Paul Productions
jmpp@triplepointpr.com
415.955.8500