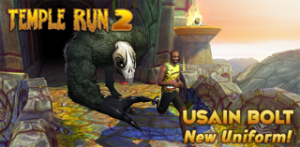 Run for Your Life as Usain Bolt in New Uniform Celebrating Runner's 6th World Championships Appearance
RALEIGH, N.C. — August 4, 2015 — Imangi Studios, the developers behind the mega-hit endless runner Temple Run, and Usain Bolt, the six-time Olympic Gold Medalist and world's fastest man, have partnered to release a new uniform in Temple Run 2. Since August 2013, players around the world have been able to run as Olympian Usain Bolt, widely regarded as the fastest man in history. In honor of his 6th appearance at the IAAF World Championships in Beijing, China, his character is getting a brand new look to reflect Bolt's current uniform.
The new jersey is a carbon copy of what he'll be wearing in Beijing, featuring black tiger stripes over his classic yellow and green jersey — emblematic of the colors of his native Jamaica.
"Usain Bolt's character in Temple Run 2 is one of the franchise's most popular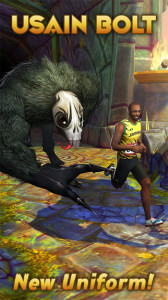 runners. To celebrate Usain's 6th-annual World Championship appearance this August, we could think of no better way than to update his character in the game to reflect what he'll be wearing this month on the track," said Keith Shepherd, co-founder of Imangi Studios. "Without a doubt, Usain's character marks the epitome of speed and agility, not to mention the ultimate 'temple runner,' and we're honored to keep working with him."
"Performance aside, few things make an athlete feel more confident than his jersey," said Usain Bolt.  "It's only fitting, then, that my Temple Run 2 alter ego wear the same great jersey I get to wear this summer at the World Championships."
Temple Run 2 is available on available on iOS, Google Play, Amazon, and Windows Phone 8. The update is free for players who have previously purchased the limited edition Usain Bolt character.
About Imangi Studios
Imangi Studios was founded in 2008 by husband-and-wife team Keith Shepherd and Natalia Luckyanova with the goal of creating small fun games for everyone to enjoy. What started as a dream job for the couple has evolved into a successful business, with Keith and Natalia now working with a team of other talented game creators. In June 2014, Imangi announced that its mega-hit Temple Run series had amassed over a billion downloads, defining it as one of the most popular games in history. The Temple Run franchise has expanded to create Temple Run: Brave and Temple Run: Oz, as well as over 30 global licensees from apparel to publishing.
About Usain Bolt
Usain Bolt is a six times Olympic gold medalist and 'the fastest man in the world'. The Jamaican sprinter holds the world records in the 100m (9.58 secs), 200m (19.19 secs) and 4x100m (36.84 secs). He has been winning medals and breaking records since 2002 when he won the IAAF World Junior T&F Championships in Kingston, Jamaica. He is a five times World Champion.
Media Contact
TriplePoint PR for Imangi Studios
imangi@triplepointpr.com
(415) 955-8500