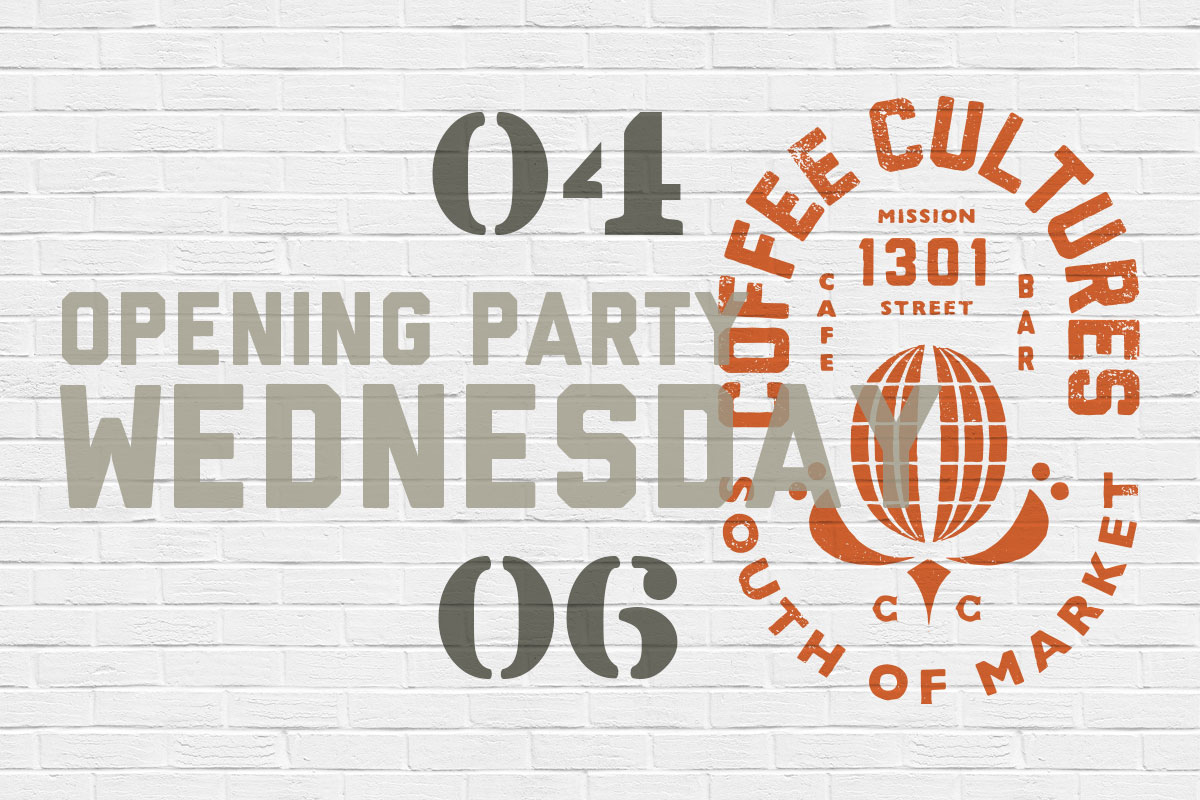 Independently-Owned Cafe Expands Food and Beverage Offerings at Brand-New Location with Hybrid Cafe/Bar Space
SAN FRANCISCO, Calif. – April 5, 2016 – Coffee Cultures, an independently-owned specialty coffee shop, today announced the opening of a new location in the heart of San Francisco's Mid-Market area, at the corner of Ninth Street and Mission Street, taking up residence in the only retail space of the all-new Panoramic by Patrick Kennedy. The expansion comes on the heels of Coffee Cultures' previous success in the Financial District under proprietor Jason Michael Paul, previously co-founder of Coffee Bar.
An official launch party will be held tomorrow, Wednesday, April 6th from 4PM – 8PM to celebrate the opening of the new location. The event is open to the public and will feature complimentary coffee, wine/beer, and assorted food.
Building on the menu at the original Financial District location, the new shop will offer a menu of breakfast and lunch items served by chef, Alex Marsh, known also as the Executive Chef and Owner of TheJetsetChef.com, and previously Consulting Chef to Coffee Bar and Lark Creek Restaurant Group. In addition, a full wine list will be curated by leading San Francisco sommelier, Andrew Dombrowski, as well as a craft beer selection at its adjacent bar. The cafe will continue to exclusively serve the North Carolina-based Counter Culture Coffee.
"Ninth and Mission is a burgeoning area in San Francisco, with big companies like Twitter and Uber setting up shop here in recent years. We're making a statement with this new Coffee Cultures' location because it proves that not only can independently owned businesses succeed despite big franchises, but they can thrive and expand as well," said Jason Michael Paul, Founder and Owner of Coffee Cultures. "As an independent business owner from the Bay Area, I'm committed to supporting the community, which is why we source our food and beverage offerings locally, and why we've invited local artists to help us design the new space."
Chen Design Associates, a renowned local agency responsible for the aesthetic of nearby grocery-center, The Market, as well as the Mission patisserie, Craftsman and Wolves, designed the metropolitan-inspired shop, which was built by Vokic Architecture. The urban space, with large brick walls and murals Paul commissioned by a local San Franciscan artist, David Burke, reflect a modern sensibility which lends itself to welcoming patrons looking to satisfy a hunger or thirst in the new burgeoning area.
The new Coffee Cultures location will serve sweets from local bakeries Patisserie Philippe and Anthony's Cookies, along with a selection of sandwiches and salads. A breakfast and lunch menu will be available in the coffee shop daily, while charcuterie and cheese plates will be served in the bar area in the evenings.
The Mid-Market Coffee Cultures store is located at 1301 Mission Street and will be open daily from 7am to 7pm. The adjacent bar will open daily at 4pm, offering the perfect transition from day to evening. The partition between bar and coffee shop can be omitted for events that want to utilize the entirety of the space.
Coffee Cultures opened its first location in the Financial District of San Francisco on 225 Bush St. in 2013. For more information, please visit: coffee-cultures.com.
About Coffee Cultures
Coffee Cultures, founded in 2013 by Jason Michael Paul, is Paul's followup to the renowned Coffee Bar, which he co-founded in 2007. Coffee Cultures serves world-famous Counter Culture Coffee. In 2013, Coffee Cultures' first location opened in the Financial District of San Francisco on 225 Bush St., followed by a second location on the corner of 9th Street and Mission in SOMA with the addition of an adjacent beer and wine bar. For more information, please visit: coffee-cultures.com.
Media Contact
TriplePoint for Coffee Cultures 2
jmpp@triplepointpr.com
415.955.8500