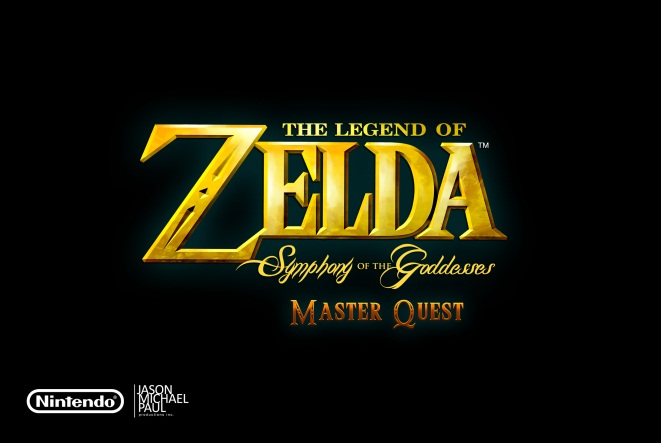 For the First Time, New Master Quest Installment Will Showcase EpicMusic from The Legend of Zelda: Tri Force Heroes in Three Shows Across Mexico
MEXICO – April 21, 2016 – "The Legend of Zelda: Symphony of the Goddesses" concert series is making its way to Mexico once again for the series' third installment of multimedia shows, "Master Quest" with ticket sales starting today. This latest edition of the symphonic concert tour includes music and visuals from the newly released The Legend of Zelda: Tri Force Heroes game for the Nintendo 3DS family of systems. These new scores and gameplay images will join the show's now-classic repertoire from seasons past, maintaining the beloved experience fans have come to expect. The Mexico leg of the tour will consist of three shows in Guadalajara, Monterrey, and Mexico City.
"We had an incredible time performing in Mexico last year and are thrilled to continue to bring the ultimate Legend of Zelda musical experience to the country, as well as introduce fans to music from The Legend of Zelda: Tri Force Heroes," said Jason Michael Paul, President of Jason Michael Paul Productions, Inc, the company producing the concert tour. "In fact, we received so much love in Monterrey and Mexico City last year that we decided to add a third show in Guadalajara for our passionate and dedicated fans there."
For more information about the 2016 show dates in Mexico or to purchase tickets, please visit the links below:
Based on one of the most popular and beloved video game series of all time, the tour features live orchestral performances of theme music from Nintendo's The Legend of Zelda franchise. Guests will enjoy their favorite moments from the series, carefully and beautifully timed with a gorgeous orchestral score approved by Nintendo sound director and Legend of Zelda franchise composer Koji Kondo. The concert is a festive experience for all walks of fans, many of which attend while "cosplaying" as their favorite characters.
The name Symphony of the Goddesses refers not only to the concert program but also to the four-movement symphony recounting the classic storylines from The Legend of Zelda: Ocarina of Time 3D, The Legend of Zelda: The Wind Waker HD, The Legend of Zelda: Twilight Princess HD and The Legend of Zelda: A Link to the Past. The performance will also highlight orchestral renditions of music from The Legend of Zelda: Link's Awakening, The Legend of Zelda: Majora's Mask 3D and The Legend of Zelda: Spirit Tracks. Concerts will be performed by a full orchestra and choir in world class venues throughout the world.
Fans can view a complete tour schedule with ticketing information, and also sign up for a regularly updated digital newsletter, at http://zelda-symphony.com.
About Nintendo
The worldwide pioneer in the creation of interactive entertainment, Nintendo Co., Ltd., of Kyoto, Japan, manufactures and markets hardware and software for its Wii U™ and Wii™ home consoles, and Nintendo 3DS™ and Nintendo DS™ families of portable systems. Since 1983, when it launched the Nintendo Entertainment System™, Nintendo has sold more than 4.3 billion video games and more than 692 million hardware units globally, including the current-generation Wii U, Nintendo 3DS and Nintendo 3DS XL, as well as the Game Boy™, Game Boy Advance, Nintendo DS, Nintendo DSi™ and Nintendo DSi XL™, Super NES™, Nintendo 64™, Nintendo GameCube™ and Wii systems. It has also created industry icons that have become well-known, household names such as Mario™, Donkey Kong™, Metroid™, Zelda™ and Pokémon™. A wholly owned subsidiary, Nintendo of America Inc., based in Redmond, Wash., serves as headquarters for Nintendo's operations in the Western Hemisphere. For more information about Nintendo, please visit the company's website at http://www.nintendo.com.
About Jason Michael Paul Productions, Inc.
A pioneer and leader in the live symphonic concert industry, Jason Michael Paul Productions, Inc. has been responsible for producing world-renowned concerts including events for The Three Tenors, Luciano Pavarotti, Dear Friends ~ Music from FINAL FANTASY, More Friends ~  Music from FINAL FANTASY, PLAY! A Video Game Symphony, rePLAY: Symphony of Heroes, The Legend of Zelda- 25th Anniversary Concerts, The Legend of Zelda: Symphony of the Goddesses.
Assets
For a press kit with images and logos, visit: https://app.box.com/ZeldaSymphony-MasterQuest.
Media Contact
TriplePoint PR for Jason Michael Paul Productions, Inc
jmpp@triplepointpr.com
415.955.8500