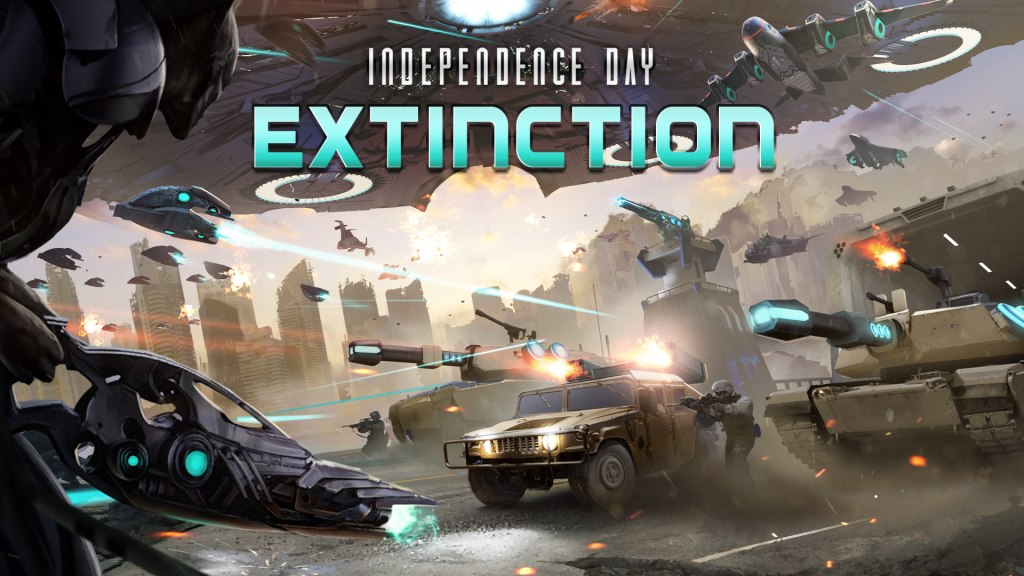 Burlingame, Calif. — June 15, 2016 — Linekong U.S. has announced the release of the mobile game INDEPENDENCE DAY: EXTINCTION, which is based on the Twentieth Century Fox feature film, INDEPENDENCE DAY: RESURGENCE, in theaters everywhere June 24th. The mobile game will be released globally this summer and pre-registration is now available on the game's website and Google Play.
INDEPENDENCE DAY: EXTINCTION gives fans the unique option to play as ESD forces defending Earth, or as the alien invaders, who are intent on destroying it.
Players will experience action-packed battles as they fight for the very survival of their respective races by fortifying their bases with futuristic technology combined with real-time strategy game play. Key mobile game features include an extensive Player-Versus-Environment campaign, global Player-VS-Player combat, an extensive card-based upgrade system, hybrid weaponry inspired by the film and much more. The upcoming mobile strategy game is Linekong's first worldwide release.
About Linekong U.S.
Linekong U.S. is creating games that combine Western creativity and Eastern monetization strategies with a global appeal. Linekong U.S. is the $20M backed Western arm of its parent company, Linekong Interactive (HKSE: 8267). This partnership will produce one of many IP-branded games for Linekong, and the first with a large Western presence. Linekong Interactive is a pioneer in bringing top entertainment properties to the mobile gaming space in China. To date, the company has successfully published games for "One Hundred Thousand Bad Jokes", "Empresses in the Palace", and "Legend of Zu" which have over 10 billion views on online video channels. These games contribute towards Linekong's portfolio and user base with over 196M registered users, an average DAU of 657K and average MAU of 3.61M. Linekong is planning to release two more IP-based games in the first half of 2016.
INDEPENDENCE DAY: RESURGENCE
Release: June 24, 2016
Director: Roland Emmerich
Screenplay by: Nicolas Wright & James A. Woods and Dean Devlin & Roland Emmerich and James Vanderbilt; Story by Dean Devlin & Roland Emmerich and Nicolas Wright & James A. Woods
Producers: Dean Devlin, Roland Emmerich, Harald Kloser
Cast: Liam Hemsworth, Jeff Goldblum, Bill Pullman, Judd Hirsch, Maika Monroe, Jessie Usher, William Fichtner, Charlotte Gainsbourg, Travis Tope, Sela Ward, Brent Spiner, Vivica A. Fox, Angelababy
We always knew they were coming back. After INDEPENDENCE DAY redefined the event movie genre, the next epic chapter delivers global spectacle on an unimaginable scale. Using recovered alien technology, the nations of Earth have collaborated on an immense defense program to protect the planet. But nothing can prepare us for the aliens' advanced and unprecedented force. Only the ingenuity of a few brave men and women can bring our world back from the brink of extinction.
Media Contact
Press Requests
TriplePoint PR for Linekong, US
415.955.8500
linekong@triplepointpr.com