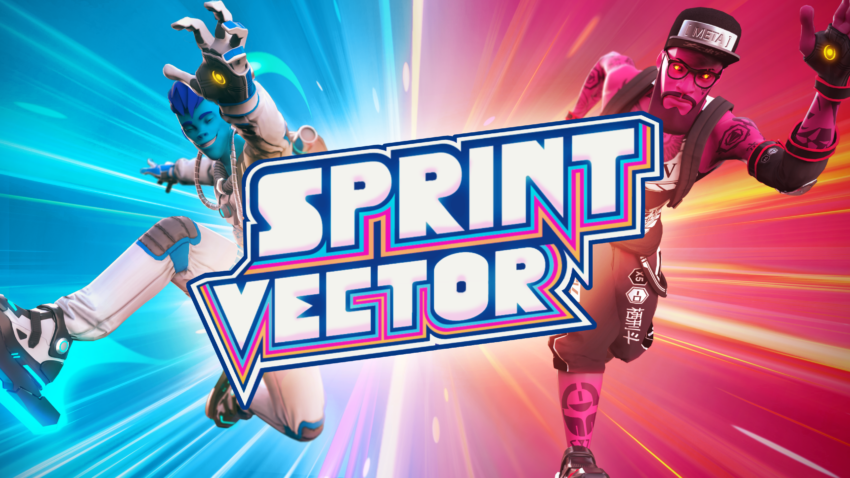 Now Accepting Applications to Experience Virtual Reality's Ultimate Competitive eSports Title
LOS ANGELES – January 16, 2018 – Survios, a global leader in virtual reality (VR), today announced that closed beta testing for its anticipated multiplayer adrenaline platformer, Sprint Vector, will take place January 19 through January 28, 2018. Now publicly accepting signups at www.sprintvector.com/#beta, the beta will be accessible through Oculus Home and SteamVR, and will give participants an early taste of the game's 8-player competitive online racing. Sprint Vector is slated to launch globally in Q1 2018.
This beta represents the first time Sprint Vector is available for hands-on, online competitive platforming and footracing. The beta includes access to three competitive maps, a full roster of playable characters, all in-game power-ups, a never-before-seen challenge mode featuring two solo maps with unique challenges, and both quick play and private lobbies. Multiplayer servers will be open on the weekends from 5:00pm to 8:00pm PT in the US, and from 17:00 to 20:00 GMT in the EU.
Sprint Vector is built on Survios's proprietary Fluid Locomotion™ system, which allows for intuitive player locomotion and comfortable gameplay even with intense speeds and movements in VR. This allows players to enjoy the world that's been created for them–a future where the galaxy's most popular game show, Sprint Vector, is created and directed by the media-consumption mastermind Mr. Entertainment, and with players taking control of the show's athlete personalities. Players are able to gain speed in Sprint Vector by moving their VR controllers up and down to mimic a runner's movement, thereby allowing their character to run, jump, climb, fling, and fly at extreme speeds in this frenetic VR adrenaline platformer.
To view the latest trailer for Sprint Vector, visit: https://youtu.be/JDm00CSHaKo
To learn more about Sprint Vector, visit: www.sprintvector.com
…
About Survios
Founded in 2013, Survios is a Los Angeles-based virtual reality studio focused on building connected VR experiences with emergent interactivity, social multiplayer, and visceral play. At Survios, gaming is seen as an art form, and we don't just want to make games more immersive—we strive to make them more human. Our mission is to expand the human experience and unlock our creative potential through the power of virtual reality. For more information, visit www.survios.com.
###
MEDIA CONTACTS:
Maria Gonima
Survios Communications
maria.gonima@survios.com
TriplePoint PR, for Survios
survios@triplepointpr.com
415.955.8500