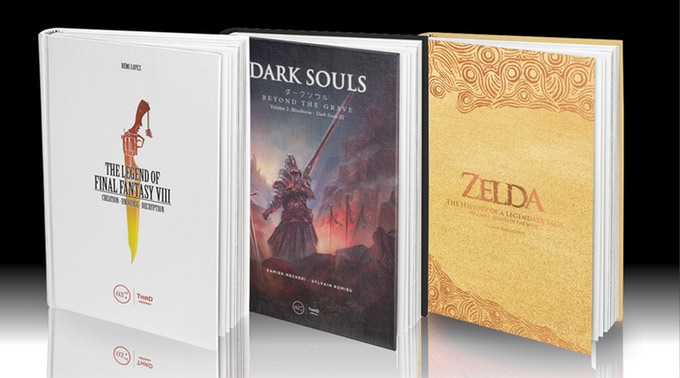 Crowdfunding campaign begins to produce new books on The Legend of Zelda: Breath of the Wild, Dark Souls III and Bloodborne, and Final Fantasy VIII
Toulouse, France – March 1, 2018 – French publisher of specialist video game books, Third Editions, have today launched their new Kickstarter campaign in order to fund the English translation of three of their most popular French-language titles. The campaign aims to raise €60,000 / £54,000 / $74,000 to produce second volumes of their books on the Legend of Zelda and Dark Souls series, as well as a book dedicated to Final Fantasy VIII.
Find out more about this project's goals, and watch the campaign's new Kickstarter video, here.
The three books in line for translation have all been acclaimed in France, and Third Editions is excited to offer them to a significantly wider international audience with these new English localizations.
Zelda: The History of a Legendary Saga – Volume 2: Breath of the Wild
The second volume of Third Editions' Legend of Zelda series focuses on 2017's open-world masterpiece Breath of the Wild, examining its incredible game design, world building and tightly woven lore.
Dark Souls: Beyond the Grave – Volume 2: Bloodborne and Dark Souls III
Beyond the Grave – Volume 2 picks up from where the first book left off, exploring the plague-ravaged streets of Bloodborne, a game palpably crawling with unease, and FromSoftware's Souls series climax, the critical and commercial titan of Dark Souls III.
The Legend of Final Fantasy VIII
A comprehensive analysis of one of the popular role-playing series' most fondly remembered entries, in the same detailed vein as Third Editions' Final Fantasy VII book.
Successfully meeting their Kickstarter target of €60,000 / £54,000 / $74,000 will enable Third Editions to immediately begin translating these three books. Should they go beyond their fundraising target for this Kickstarter campaign, as they did in 2016, Third Editions will begin to offer further rewards to backers.
Third Editions' first Kickstarter campaign, in 2016, raised over $170,000 (equivalent to £123,000, or €139,000) to translate a total of five books from French to English. These titles cover the BioShock series, Hideo Kojima's Metal Gear Solid franchise, Final Fantasy VII, The Legend of Zelda games up to A Link Between Worlds, and the Dark Souls series from Demon's Souls to Dark Souls II.
Third Editions produce high-quality, hardback books filled with authoritative and passionate writing. They are built on a very clear narrative structure that moves through the creation of each game, the universes they both manufacture and exist within, and in-depth analysis of their mechanics, themes and legacy. The authors are highly respected in their fields, with years of experience writing for some of the biggest outlets in Europe.
For more information on the publisher and its previous English books, check out Third Editions' official website, Facebook, Twitter and Instagram.
…
About Third Editions
Based in Toulouse, France, Third Editions is a publishing house founded in 2015 by Mehdi El Kanafi and Nicolas Courcier. Veterans of the video game industry and fascinated by print media since their childhood, they combined their passions and co-wrote several books on major series, including Zelda: The History of a Legendary Saga, Metal Gear Solid: Hideo Kojima's Magnum Opus, and The Legend of Final Fantasy VII. Each release is a comprehensive document produced with the utmost care for accuracy and passion for the project. Third Editions has now published 40 books in France, all dedicated to the video game industry and pop culture, and is now localizing select titles for the enjoyment of further readers around the world.
…
Media Contacts
Europe
ICO Partners for Third Editions
North America
Triple Point for Third Editions
thirdeditions@triplepointpr.com
…