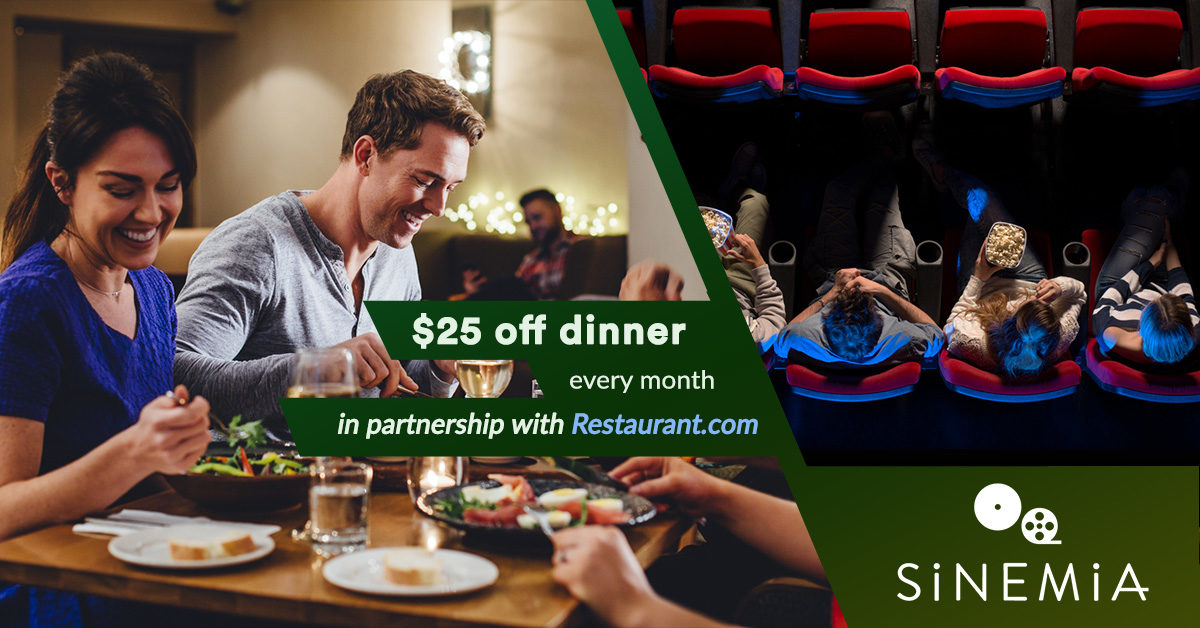 MoviePass competitor Sinemia now offers $25 dinner discounts every month for 62,000 restaurants and national merchants through nationwide partnership
LOS ANGELES, July 11, 2018 — Sinemia, the leading global movie ticket subscription service, and Restaurant.com, the nation's largest dining deals site, have today announced a partnership to provide each new Sinemia subscriber in the U.S. with up to a $300 value towards dining discounts at Restaurant.com over the course of a one-year Sinemia subscription. Sinemia subscribers can use a $25 Restaurant.com eGift Card each month towards a discount at more than 62,000 participating restaurants and national merchants across the United States.
As part of the partnership, Sinemia subscribers will get access to one free $25 eGift Card each month that may be redeemed for any participating Restaurant.com partner. This offer is available to new Sinemia subscribers starting today, and for a limited time only. Terms and conditions apply.
"At Sinemia, our mission is to provide customers a complete, end-to-end movie-going experience, and our partnership with Restaurant.com is another strong step in building the perfect movie night out," said Sinemia Founder and CEO Rifat Oguz. "Dinner and a movie is a classic night out, but for many it's simply unaffordable. We want to make it easier for our customers to enjoy their time out because we know they're not leaving home just to watch a movie on the big screen, but for the entire social experience."
"As the nation's largest dining deals site, we are excited to partner with Sinemia to provide their customers with the ultimate night out with dinner and a movie," said Larry Nichter, Vice President, Sales at Restaurant.com. "For nearly 20 years, we have provided customers with access to affordable dining out, and combining that with a leading global movie subscription service enables customers to enjoy their entire night out while saving money."
Sinemia offers a range of ticket subscription plans starting at just $4.99 per month, paid annually — the lowest movie ticket subscription price on the market. Unlike MoviePass, moviegoers with Sinemia can purchase tickets and select seats in advance, without needing to be at the theater to do so. All Sinemia monthly movie ticket subscriptions give moviegoers the flexibility to pick any movie in nearly any theater on any date, and to book their tickets and select their seats up to 30 days in advance.
This partnership represents the next big step Sinemia is taking to become a one-stop destination for moviegoers planning a date night, family night out, or night out with friends. Through the Sinemia mobile app, customers can also access perks such as location-based recommendations and ride-sharing integration.
For more information or to sign up for Sinemia today, please visit https://www.sinemia.com. Download the Sinemia mobile app today on the App Store and Google Play Market at:
Sinemia image assets are available here.
About Sinemia, Inc.
Sinemia is the only movie ticket subscription service to offer members access to any movie, at any cinema, at any showtime. Designed for the modern moviegoer, Sinemia's movie ticket subscription plans are affordable and flexible, featuring advanced ticketing and 3D-IMAX options. The Sinemia mobile app is perfect for frequent film-goers, offering deals, personalized recommendations, transportation options, and more. Sinemia is based in Los Angeles. For more information please visit www.sinemia.com.
About Restaurant.com
Restaurant.com is the trusted and valued source connecting restaurants and diners nationwide. The company offers savings at more than 62,000 restaurants and national merchants nationwide. Restaurant.com brings people together to relax, converse and enjoy well-prepared meals at up to 50% off the final bill. To date, Restaurant.com customers have saved more than $1 billion through their program. Restaurant.com has operated since 1999 and is based in Arlington Heights, Illinois.