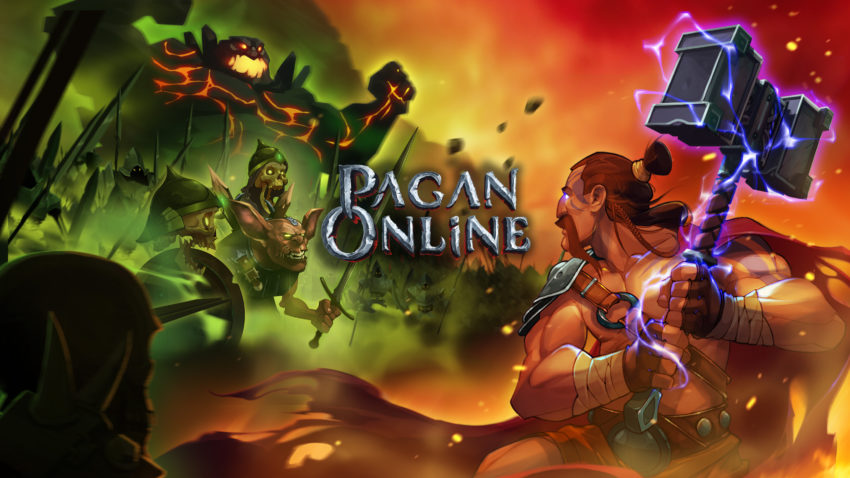 Expect Endless Action Coated in Dark Pre-Christian Mythology in PC Hack-and-Slash from World of Tanks Publisher and Talented Serbian Developers
November 8, 2018 – Wargaming has today announced Pagan Online, an intense aRPG of pre-biblical proportions that pits players against hordes of savage enemies and ancient vengeful gods, from the developers at Mad Head Games. In Pagan Online, players will battle through a demonic dystopia based on pre-Christian mythology in a game that is equal parts brutal, manic, and mystical. The game will launch on PC in 2019, and registration for pre-launch tests known as Trials is now open at Pagan-Online.com.
Catch the official reveal trailer for Pagan Online here: https://youtu.be/QKfBGC2aCA0.
Pagan Online is a new take on hack-and-slash aRPGs, featuring challenging and fast-paced combat, powerful combatants, endless gear, and tons of gory glory. Following in the footsteps of classic dungeon crawlers while tearing down and reinventing gameplay into a MOBA-style combat experience, this game will have MOBA players begging for one more run and RPG disciples wondering what just hit them.
"Mad Head Games are passionate, talented, and have a 'go broke' mentality to do whatever it takes to make their game as awesome as it can be," said Jacob Beucler, Product Director, Wargaming. "We've taken Mad Head under our wing because this mentality reminds us of the early days at Wargaming when we put everything we had on the line to launch World of Tanks. Pagan Online is one of Wargaming's most exciting opportunities yet — we're helping bring these devs' passion and skill to PC gamers everywhere."
"With Pagan Online we've modernized how combat in a top-down action RPG works, taking cues from MOBAs to create something that's fast-paced, overwhelming with enemies, and super challenging," said Uros Banjesevic, Co-founder and Creative Director of Mad Head Games. "It's a thrill to finally be able to share this game, the product of our blood, sweat, and tears, with the world!"
In Pagan Online, players will engage in intense and strategic sessions of carnage across a variety of environments. Missions are highly replayable, with numerous game modes and difficulty levels on top of a lengthy single player mode that will be continuously updated with episodic content expansions called "Battle Chapters". Whether players are interested in mowing down enemies with ease, testing their mettle with brutally maleficent mayhem, or competing with friends for bragging rights, Pagan Online offers a sadistic spectrum of challenges to overcome.
A press kit including Pagan Online logos and key art can be found here.
Follow Pagan Online on social media to be the first to get the latest updates:
Wargaming
Wargaming is an award-winning online game developer and publisher headquartered in Nicosia, Cyprus. Founded in 1998, Wargaming has grown to become one of the leaders in the gaming industry with 4500+ employees and more than 20 offices globally. Over 200 million players enjoy Wargaming's titles across all major gaming platforms. Their flagship products include the massively popular free-to-play hit World of Tanks and the strategic naval action game World of Warships.
About Mad Head Games
Mad Head Games is one of the pioneers of game development in Serbia. Founded in 2011, it quickly grew to become an industry leader, blazing the trail for all up-and-coming domestic game developers. The company is known for its innovative approach to casual adventure games, and after years of consecutive successes, it is expanding into new genres.
Media Contact
TriplePoint PR, for Wargaming
Jimmy Rogers
jrogers@triplepointpr.com
415.855.9500