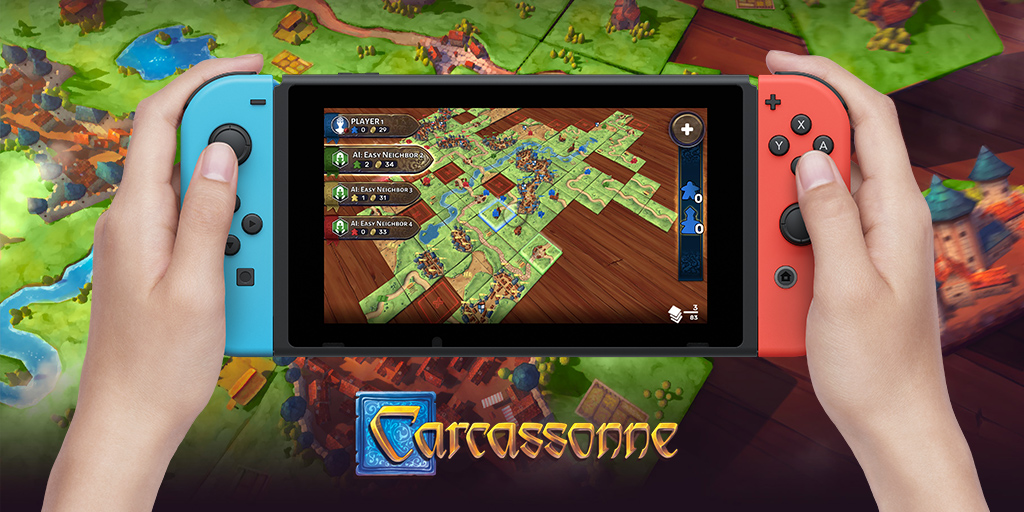 Popular Tabletop Game Carcassonne Now Available on Nintendo Switch™
Carcassonne is the first digital board game title to be released from Asmodee's Digital catalog on Nintendo Switch™
PARIS – Dec. 6, 2018 – Asmodee Digital today announced the release of Carcassonne for Nintendo Switch™, the first of several digital board game titles being optimized for the platform over the coming year. Carcassonne is available on the Nintendo eShop now for $19.99 MSRP.
Carcassonne is mainstream: simple to pick up, but challenging to master, presenting players with endless opportunities for tactical play. Nintendo Switch offers a complementary experience: players can enjoy the digital advantages of tabletop at home – no set-up or scorekeeping required – and take their game on the go with portable handheld capabilities.
This is the official adaptation of the famous board game Carcassonne, a tile-placement game based on the multiple award-winning tabletop game where players build medieval cities, roads, fields, cloisters and many more things.
In the Nintendo Switch edition, players can build a medieval world in a full adaptation of the multi millions sold Carcassonne, complete with 3D maps, solo mode and multiplayer with up to six players with local pass & play.
Main features:
Local multiplayer

Up to 4 players using  Joy-Con

™

controllers

Up to 6 players thanks to the pass-and-play feature

Cross-platform multiplayer modes coming in 2019

Beautiful new artwork, 2D and 3D perspective

3 different AI behaviors
The Abbot and The River expansions are included with the Nintendo Switch edition for free, and Inns & Cathedral DLC is available for $6.99 MSRP. Cross-platform online multiplayer will be available in 2019. Further expansions already known to the fanbase, will follow.
For more information:
Press Kit: https://drive.google.com/drive/folders/1L5GTFbv7tbl5UIxt4qsnmKXFyTNjZhMY?usp=sharing
About Asmodee Digital
Asmodee Digital, a fully owned subsidiary of the Asmodee Group, is an international publisher and distributor of digital board games with operations located in Europe, North America, and China. Asmodee Digital manages the creation, design, development, publishing, and marketing of board and card games on leading digital platforms – spanning mobile, PC, Mac, virtual reality and consoles – for Asmodee studios as well as for third-party publishers. The current Asmodee Digital catalog includes best-selling digital games such as Catan VR, Carcassonne, Ticket to Ride, Splendor, Agricola, Mille Bornes, Pandemic, Small World 2, Mr. Jack London, Colt Express, Mysterium, Potion Explosion, Onirim, Jaipur, Spot It! Duel, Abalone, Ticket to Ride First Journey, Catan Stories, Talisman, Fighting Fantasy Legends, Smash Up and digital versions of many other well-known board games.
About Hans Im Glück
Hans im Glück, founded 1981 in Munich, Germany, is an international board game publisher. Probably the best known brand held by HiG, is Carcassonne. This board game is licensed into about 30 languages and sold in about 40 countries. About 10.500.000 copies of this family were sold so far, only counting physical copies. Beside that, HiG has a strong reputation for strategic board games and won a large amount of international prices. For example 7 times the well known "Spiel des Jahres" in Germany. Other successful games sold, are for example: Stone Age, The Voyages of Marco Polo and the new LiftOff.
Carcassonne – © 2018 Asmodee Digital. Carcassonne and the brand Carcassonne are a license  by Hans im Glück Verlag GmbH
##
TriplePoint for Asmodee Digital
asmodee@triplepointpr.com
(415) 955-8500