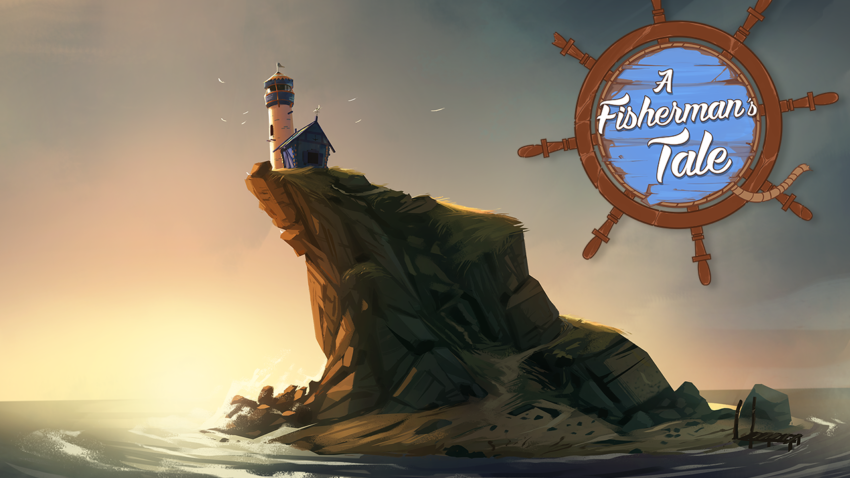 A Fisherman's Tale Now Available: Step into a world
where physics are broken, and your every move is
replicated on an infinite recursion…
A Fisherman's Tale Now Available: Step into a world
where physics are broken, and your every move is
replicated on an infinite recursion…
A Fisherman's Tale Now Available: Step into a world
where physics are broken, and your every move is
replicated on an infinite recursion…
Mind-bending VR adventure game out now for PlayStation VR, HTC Vive, Oculus Rift & Windows Mixed Reality
Rotterdam (NL), January 22, 2019: In A Fisherman's Tale, the mind-bending VR adventure game that launches onto PlayStation VR, HTC Vive, Oculus Rift and Windows Mixed Reality headsets today, you will work with infinite, ever smaller and bigger replications of yourself to find your way out of a world where physics are utterly broken.
Watch the live-action launch trailer: https://youtu.be/uj0cxBlKK8c
What does it mean to be trapped inside a replica in an elusive virtual world? A Fisherman's Tale is a journey of both introspection and extrospection, asking players to both reach inside and outside of themselves for answers.
In A Fisherman's Tale, players will:
Break more than a couple laws of physics in mind-bending VR puzzles!
Team up with yourself in revolutionary multi-dimensional single player co-op!
Meet some of the quirkiest sidekicks to have ever set foot in a VR game
Use your hands to pick up, throw, combine, and use all kinds of things in glorious fully immersive virtual reality!
Toy around with your tiny little model lighthouse, inside a lighthouse, inside a… is that another lighthouse?
Uncover the truth at the core of an unusually tall tale, exclusively in VR
A Fisherman's Tale is now available at a SRP of $14.99/€14.99 for PlayStation VR, HTC VIVE, Oculus Rift and Windows Mixed Reality.
For more information, visit http://afishermanstale-game.com, subscribe to the newsletter and follow Vertigo Games on Facebook and Twitter.
# # #
Assets: 
Live-Action Launch Trailer: ESRB, PEGI
New Screenshots: https://we.tl/t-jXq2vch1X8
Press kit: https://we.tl/t-8dC1kzVDDD
About A Fisherman's Tale
Bend and twist reality in A Fisherman's Tale, the mind-bending VR puzzle adventure game in which being turned upside down and inside out is not merely a play on words.
Playing as Bob, a tiny fisherman puppet, you live alone in your tiny cabin, oblivious to the world outside. When your radio broadcasts a storm alert, you have to get to the top of the lighthouse and turn on the light! But as you try to leave your cabin with the help of some uncanny sidekicks, you realize what's waiting outside is not at all what you expected… http://afishermanstale-game.com
About Innerspace
Innerspace is a cutting-edge VR creation studio, dedicated to leveraging the power of VR to build games and entertainment with a strong creative identity. We imagine gaming mechanics, worlds and stories for casual VR users to enjoy on all major devices, and craft experiences using our own development frameworks. http://innerspacevr.com
About ARTE
Created in 1992, ARTE is a public service European culture channel and digital network with a focus on creation and innovation. In the last decade, ARTE has co-produced a number of major interactive works, including the games Type:Rider, Bury me, my Love, Vandals and Homo Machina and VR-experiences like Notes on Blindness, Alteration and Battlescar.
About Vertigo Games
Founded in 2008, Vertigo Games is a game developer and publisher that since the start of the modern VR era has exclusively developed and launched full-feature games for VR. The company is best-known for the platinum selling VR FPS Arizona Sunshine and the award-winning VR strategy game Skyworld. Upcoming VR titles include the VR puzzle adventure A Fisherman's Tale and the PS VR version of Skyworld. http://vertigo-games.com
Press contact
Vertigo Games
Kimara Rouwit
…
…