Ninja character class, new guild bosses, and Marni Stones included in new update
MANHATTAN BEACH, Calif. – July 10, 2019 – Pearl Abyss revealed that the Ninja character class is now available as a free update for Black Desert on Xbox One. A specialist in close-quarters combat, the Ninja makes his grand entrance today alongside two new guild bosses and Marni Stones, an item to aid endgame leveling.
Watch the Ninja launch trailer here: https://youtu.be/sA9mL64aWuI
The Ninja is a high-skill fighter that excels in agility, using dashes, aerial skills and teleportation to rapidly close the distance to enemies. With the ability to conceal his presence, the Ninja can lie in wait before delivering precise, deadly strikes against his opponent. Armed with stun and debuff techniques, the Ninja can easily gain the upper hand in combat.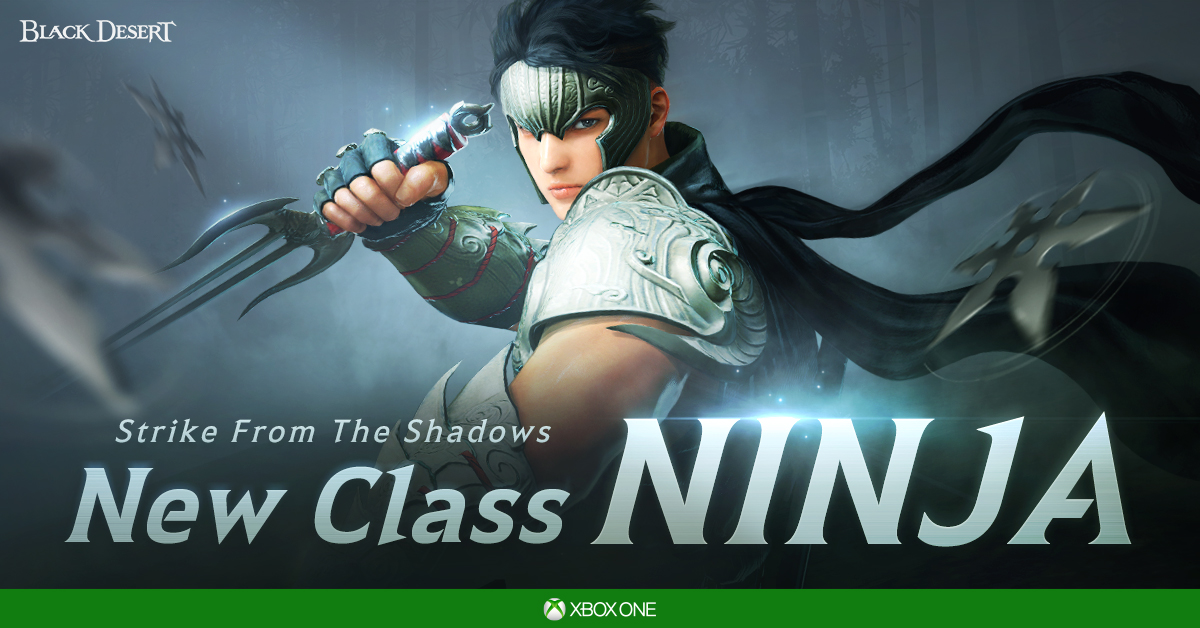 For Adventurers interested in a challenging fight, two new guild bosses have been added – the electrifying Ancient Puturum in Valencia and the ghastly Muskan of Madness in Serendia. The Ancient Puturum attacks by shooting out electric currents from its body and can regain HP by soaring into the sky to gather energy. For those seeking a more grounded fight, the Muskan of Madness will require substantial teamwork and clever strategies to be defeated. Players who successfully conquer either guild boss can receive powerful new items and equipment.
To aid in boosting players' leveling ability after Level 57, Marni Stones have been added. By purchasing Marni Stones for each monster type and achieving specific bounties, Adventurers can turn in these stones to gain more experience!
Read the full update details here.
Black Desert will be officially released on PlayStation®4 on August 22, 2019. Standard, Deluxe, and Ultimate Editions are now available for pre-order on the PlayStation Store: https://bit.ly/2ROGc38
For more information about Black Desert, visit the official website and connect with us on Facebook, Twitter and YouTube.
A press kit for Black Desert on Xbox One can be found here.
About Black Desert
Black Desert is an open-world action MMORPG with cutting-edge visuals and skill-based combat that redefines the genre. Black Desert has the most developed character customization system of any game that is currently on the market. This feature allows users to break out of the norm and make unique characters that truly represent each and every player. Its intuitive controls, beautifully designed world and extensive lore will excite both newcomers and veterans of MMO games and action RPGs. Black Desert has been successfully launched in over 150 countries, is available in 12 languages and has 20 million registered users.
About Pearl Abyss
Best known for the MMORPG franchise Black Desert, Pearl Abyss is a leading developer in the game industry. Established in 2010, Pearl Abyss has since developed Black Desert for PC, mobile and console. With all their games built on their proprietary engine, their games are renowned for their cutting-edge graphics. The company has two new projects in the works and is poised to continue its growth through 2019 and beyond to maintain its position as one of Asia's leaders in game development. More information about Pearl Abyss is available at: www.pearlabyss.com.
Media/ PR Contact:
TriplePoint on behalf of Pearl Abyss
pearlabyss@triplepointpr.com
(415) 955-8500